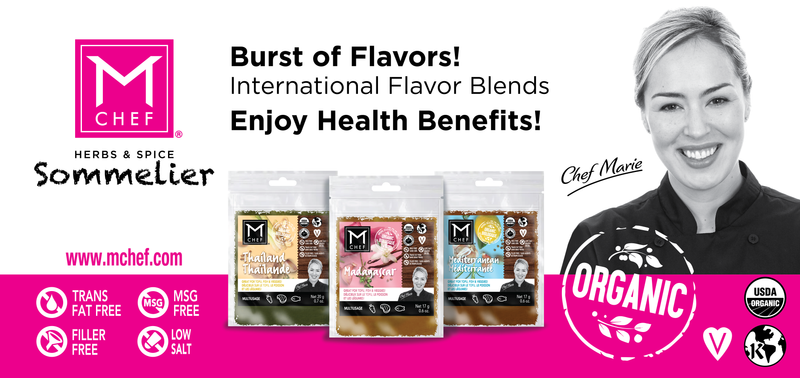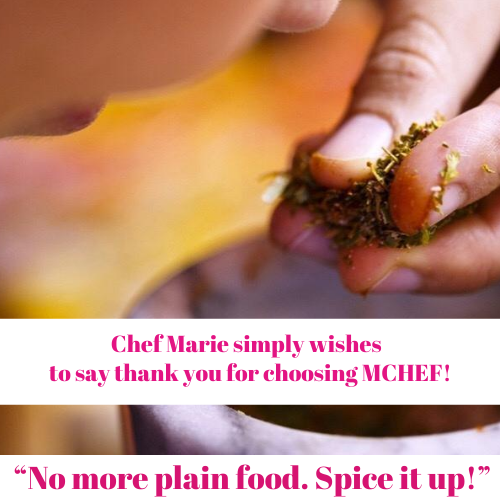 You will love Chef Marie's Natural USDA - OCIA Organic Spices. Chef Marie and her team of experts are on a clean-label mission since 2009 to developed natural herbs and spice blends to perfect your cooking, baking and mixology. It took 10 years of R&D process to put in place natural cleansing methods for herbs and spices. This unique and premium quality spice collection is 100% filler-free, Kosher certified, HACCP Certified, low in salt, gmo-free, MSG-free, vegan-friendly and does not contain the main 12 allergens such as gluten, wheat, peanuts, nuts, eggs, soy, sesame, dairy, shellfish, coconut that too often are added as fillers.The heart of this special spice development is to highlight the famous cuisines of the world in her exquisite flavors portfolio spice concept.
Discover our spice variety
Chef Marie is a passionate entrepreneur, business owner since 2003, cookbook author, guest show, speaker,
host of the MCHEF® Burst of Flavors Podcast
and
masterclass tutor for private events, cooking classes and team building workshops
. Hire Chef Marie as your personal chef to live a unique gastronomical and musical experience. Be the guest in the comfort of your home.
Buy "mchef" on Amazon
&
subscribe to our newsletter for tips, videos, recipes and promotions!
New Chef Marie's Lifestyle Food Guide on Amazon
!
For more info on Chef Marie's new cookbook, click here and it will bring you to the web page without leaving our website!
Sprinkle only half the amount you are usually adding to your food prep because our products contain only herbs and spices. Save on cost and on ingredients!
MCHEF®'s mission is simple:
Bring a daily organic burst of flavors adapted to the lifestyle and nutrition of each and every one.
VALUES
Caring-Centered on the Well-Being
Integrity and Transparency
Ambition
Creativity
Discipline
Our implemented system
:
1. Outsource the best organic herbs and spices from around the world mostly from India, South of Europe, South of America, Asia and North America.
2. Purify them with latest natural herbs and spice cleansing methods such as steam evaporation and ionization.
3. In our laboratory, we do not work with allergens; we do not add anything to our herbs and spices: fillers, additives, chemicals.
4. We have developed the best packaging to preserve quality, freshness, and colors of herbs and spices. A 3 years shelf life without compromising quality and freshness of our products!
5. Then the herbs and spices are ready to be used and sprinkled over everyday recipes for your cooking – baking and even mixology. You can now enjoy the health benefits of herbs and spices. Simply to improve quality of life and cooking experiences!
"Let's bring back quality ingredients to healthy nutrition." Chef Marie
For more information about Chef Marie, click here and it will bring you to the media webpage via www.topchefmarie.com