New Exciting Collaboration with CBD Delightful Health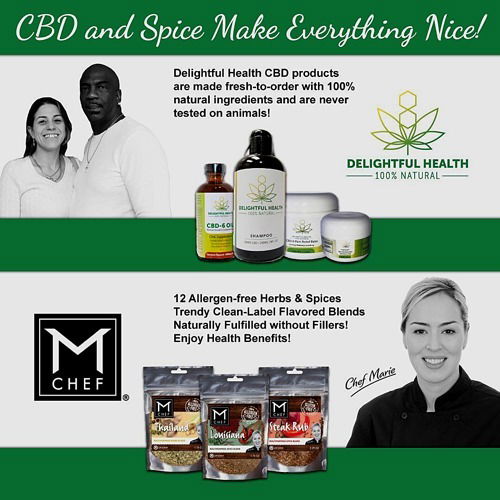 Delightful Health is collaborating with us to bring you the best top quality CBD component 6, the purest formula found on the market, and mixed with our herbs and spice blends to the enhancement of your cooking, baking and mixology. It's a bust of flavor on a daily basis and it's therapeutic soul food!
Delightful Health, The Story of Elyssa and Dane:
Delightful Health was started because of my husband's doctor-induced addiction to pain pills. After several years battling this addiction, one of his friends recommended that he try CBD oil. That was the last week he took a pain pill. That's how we stumbled upon this product and its many benefits. After a lot of research, we found out that there are many good reasons to use Delightful Health CBD products with all of their healing agents, so we decided to offer our product to others with similar or worse problems. Elyssa and Dane Hightower
For more information about Delightful Health's CBD Products

TOGETHER, we have created infused recipes that will delight your palate while providing all the benefits of the CBD oil.

Don't forget to post your Like and share with your friends, then check out the new recipes at www.delightfulhealth.net
More recipes and videos!