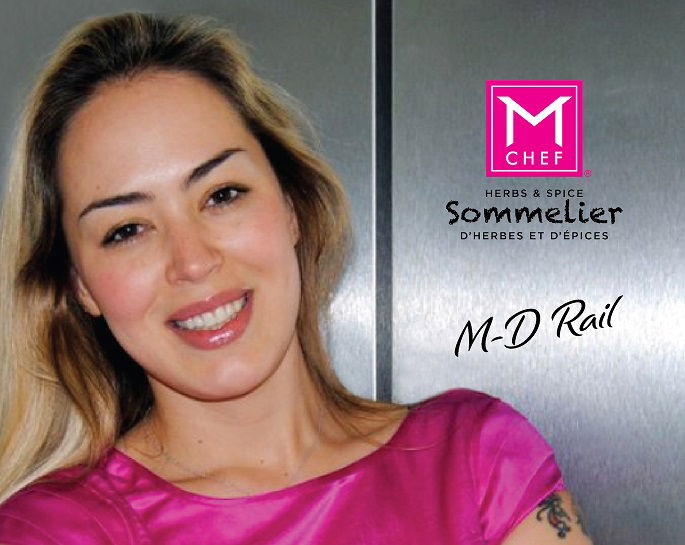 Chef Marie is the 'M' in MCHEF, of course!
I am chef-owner and founder of MCHEF® since 2009. I am a graduate of the culinary institute in Montreal Quebec Canada (Institut d'Hôtellerie et de Tourisme du Quebec). After my graduation in 2003, I had the pleasure of participating in the Foires of Geneva event as a team-player as part of Chef Jean-Paul Grappe team, an award given to the 4 students who scored higher grades and who were recognized for their strong personalities. Upon my return, I kicked off my career working in restaurant kitchens in Montreal, gradually rising to the position of Chef in 2008. It took me 10 years to become an Executive-Chef. LinkedIn tells all about my professional background. I have stopped cooking for my guests last year because the spice market needed a new agro-innovation spice product to better serve Chefs, Families, Everyone striving for better quality spices for the health benefits that spices can provide! I'm on the herbs and spices allergy-friendly clean-label mission in 2009!
In 2009, a grassroots business idea flourished into the new and innovative business of "Chef at Home" catering to a 5 star clientele. By request of loyal customers, I created gourmet-style meals consisting of all natural, mostly 12 allergen-free, clean-label "free from fillers and chemicals", and low in sodium herbs and spice blends that would delight even the most sophisticated of palates. My search brought me to discover the infinite possibilities that spices, and herbs can offer. We can provide our herbs and spices worldwide. I am travelling to speak about my journey, to bring a positive change in the spice market, to educate students in Culinary Schools. So far, I went to places over the world, including Geneva, Milano, Paris, Lyon, London, Miami, New York, Boston, Hawaii, Texas, California and Las Vegas. And I will keep my journey active. Let me know is you are interested in having me over for a conference. I love meeting inspirational passionate people, advocates and leaders!
Our implemented system for MCHEF® herbs and spices is:
1. Outsource the best organic herbs and spices from around the world mostly from India, South of Europe, South of America, Asia and North America.
2. Purify them with latest natural herbs and spice cleansing methods such as steam evaporation and ionization. Four years ago we were using cobalt irradiation for our spices. We came with a better cleansing method by ionization lately in 2018. This way, we have been able to get our products certified Organic-USDA in 2019. It takes time to evolve a project at this level. It's surely worth every step.
3. In our laboratory, we do not work with allergens; we do not add anything to herbs and spices: fillers, additives, chemicals.
4. We have developed the best packaging to preserve quality, freshness, and colors of herbs and spices. Another 2 years in R&D to develop this specialized sous-vide packaging.
5. Then the herbs and spices are ready to be used and sprinkled over every day recipes for your cooking – baking and even mixology. It's simply the best way of integrating herbs and spices into beauty recipes, into every meal, to enjoy the health benefits of what they are made for originally. Simply to improve quality of life and cooking experiences!
My search brought me to discover the infinite possibilities that spices and herbs can offer. Therefore, I made a goal of my own to share with everyone a variety of unique and delectable herbs and spice blends from around the world. I became an internationally proven R&D Chef improving organic allergy-friendly herbs and spices for consumer's nutrition. I am here to create master dishes with enhancing flavors for your every food experience.
Our mission, MCHEF®, is simple: "Contribute to the clean-label food mission by continuously developing innovating and improving flavors, raising awareness about the use of wholesome ingredients & spices and sharing knowledge without compromise, while allowing for dietary restrictions such as; gluten, nuts, allergens, low in sodium, GMO, MSG, sulfate, sulfites and so many more.
The prior objective is promoting a new approach to the food processing industry – an approach that was focused on providing premium ingredients and technical services that met the specific needs of all its customers in the food service industry. Over the years, our company has set itself apart from its competitors and has become a unique leader in the spice agro-innovation.
Thank you for participating to the mission with us! Let's bring back quality ingredients to our nutrition.