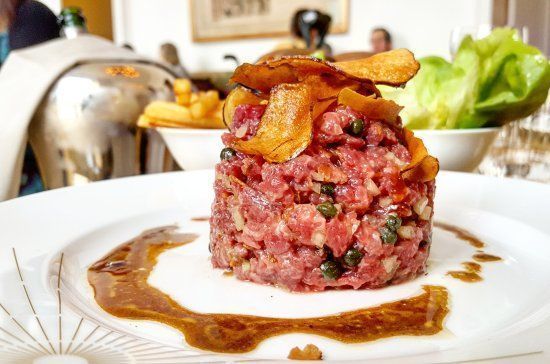 This is the very first recipe that my mentor Chef Jean-Paul Grappe taught me in the butchery class back in 1999. Please, enjoy to the fullest the burst of flavors to your palate. It's one the classics of the very unique French Cuisine! Pair with a nice glass of Pinot noir, or Syrah, or Grenache!
2 servings / 15 minutes
Ingredients
• ¼ shallots (10 g), finely chopped
• 1 tsp capers (3 g), finely chopped
• 1 tsp (5 ml) Dijon mustard
• 1 tbsp (15 ml) extra virgin olive oil
• 1/4 tsp (1.25 ml) Worcestershire sauce, to taste
• 1 egg yolks
• *300g beef, filets mignon, or rib steak, chopped into small pieces
• 1 tsp (5 g) of MCHEF® STEAK RUB or MCHEF® ORGANIC STEAK RUB Watch the video: About Chef Marie's Steak Rub
*The quantities given here are based on this recipe served as a main course. Cut the quantity in half to present this dish as a starter (75 g of beef/serving).
Preparation
1. Separate the egg whites and yolks. Set the whites aside in a glass jar with a lid and put them in the refrigerator or freezer for a future use in another recipe. Put the yolks in a bowl.
2. Finely chop the shallots and capers, then add them to the bowl. Add the mustard, olive oil, and Worcestershire sauce. Mix well using a fork.
3. Using a knife, chop the beef into small pieces until the desired consistency is obtained, then add the pieces to the bowl with the other ingredients. Season with the MCHEF® STEAK RUB or MCHEF® ORGANIC STEAK RUB to enhance flavors. No need to add salt or pepper! Bon appétit! Voilà le résultat, oh que c'est bon!
Find Chef Marie's new cookbook of 100 low-carbs and gluten-recipes absolutely delicious recipes: CHEF MARIE LIFESTYLE FOOD GUIDE! Click here on this link for more details! Bon appétit!