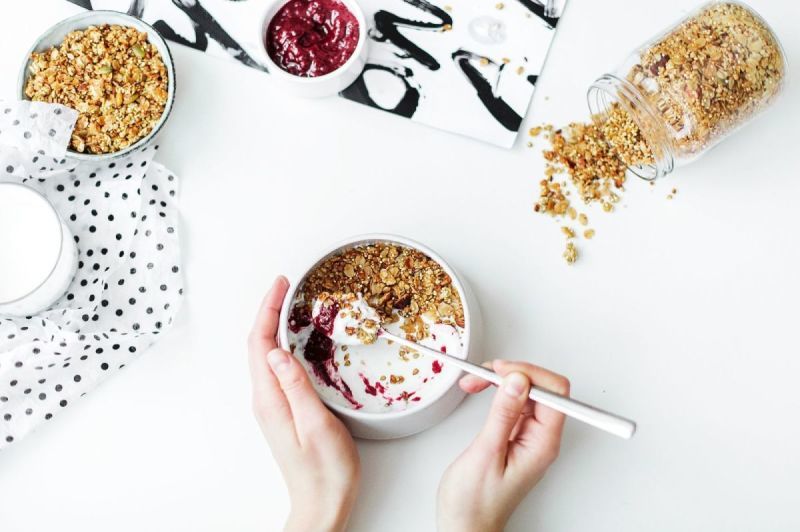 All of which has inspired me to make my own granola: this superfood-packed and naturally sweetened Grain-Free Granola! This fruity, crunchy grain-free granola is packed to the brim with superfoods of all kinds. There's nuts, flax, pepitas, coconut, chia seeds, raw honey, cinnamon, ginger, and wild blueberries.
12 servings/ 45 minutes
Ingredients
Organic Oatmeal, 3 cups
Coconut oil, 5 tablespoons
Honey or maple syrup, 1/3 cup
Sunflower seeds, 1/4 cup
Roasted Nuts, 1/2 cup
Coconut flakes, 1/2 cup
Goji berries, 1/3 cup, add to the end (no cooking)
Dried Berries, apricots, figs and dates, 1/3 cup, add to the end (no cooking)
Preparation
Heat the oven to 325 F / 170C.
In a large bowl, mix all ingredients and spread on a baking sheet lined with parchment paper.
Bake for 35 minutes, stirring and stirring the granola several times after the first 15 minutes.
You will get a light golden color. It's time to get out of the oven!
Add the Goji berries in the granola mixture once cooled.
Mix, store in containers with tight lids and enjoy! You can keep at room temperature, 5 days at most, or in the freezer for 1 month!
Find Chef Marie's new cookbook of 100 low-carbs and gluten-recipes absolutely delicious recipes: CHEF MARIE LIFESTYLE FOOD GUIDE! Click here on this link for more details! Bon appétit!