This orange salad with cinnamon is a light, deliciously refreshing and very easy to make. This amazing recipe is also gluten-free! Discover the unique flavors blend of the Fine Moroccan Cuisine. This dish can be served between courses or at the very end of the meal.
...Heaven on earth with a glass of Chardonnay or Sauvignon Blanc!
4 servings / 15 minutes
4 navel oranges or 2 navel oranges and 2 blood oranges
1/2 tsp (2 g) of the MCHEF® ORGANIC SWEET GRANDMA PUMPKIN SPICE
1 tbsp (15 ml) of orange blossom water
1 tsp (5 ml) of rose water
2 tsp (10 ml) of honey
1 tsp (5 ml) of cold-pressed extra-virgin olive oil
Few roasted pistachios
Sprinkled of roasted black and white sesame seeds for color and decoration
You can serve the salad on a flat plate and add some olive if it's at the beginning of a dining course or between courses. If you serve this dish at the end of the dining experience, you serve on a fruity or coconut sorbet.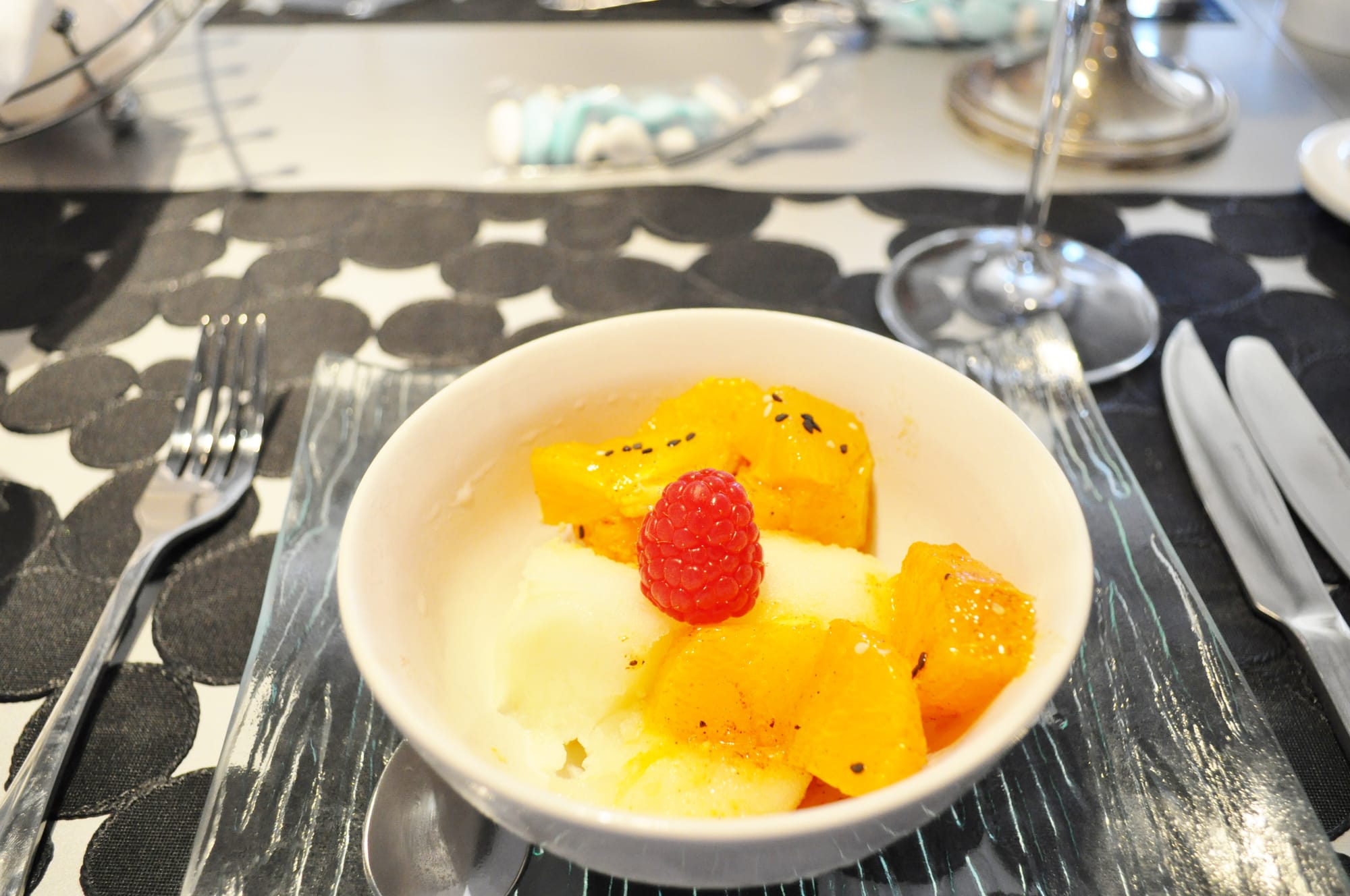 Preparation
1.Roast pistachios on a pastry pan, in the oven at 350° F (180° C), for 8 min. in center rack of the oven.
2.Cut the ends of the oranges with a chef's knife; remove the orange peel from top to bottom. In a vertical
direction, cut the orange into slices. Place the orange slices in a nice plate.
3.Pour over orange blossom water, rose water, honey and olive oil, and sprinkle with the MCHEF® ORGANIC SWEET GRANDMA PUMPKIN SPICE.
4.Add some pistachios and sesame seeds on top of the oranges. Enjoy with a lovely glass of sparkling dessert wine!
How to Pick a Ripe Orange? Select a firm, smooth and thin-skinned orange that is full colored and heavy for its size.
Oranges will keep at room temperature for up to 1 week and in the refrigerator for up to 2 weeks.
How can you tell if an orange is sweet? Browse for oranges with a slight greenness or yellow tint to the skin.
While you might associate sweet, juicy ripeness with bright orange skin, the yellow-orange and green-orange fruits are
among the juiciest, sweetest oranges, and are fully ripened. Look for the smallest oranges in the group.
Find Chef Marie's new cookbook of 100 low-carbs and gluten-recipes absolutely delicious recipes: CHEF MARIE LIFESTYLE FOOD GUIDE! Click here on this link for more details! Bon appétit!