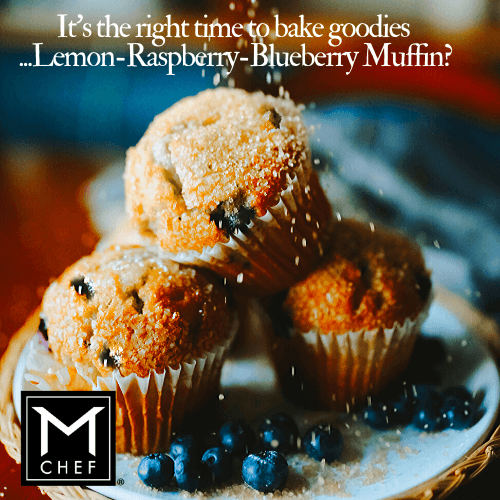 "Not only the flavors are there but it's also gluten-free and packed of vitamin C!
You want to make it today? Easy breezy, here are the ingredients":
1 cup of coconut flour
1 cup of almond flour (or gluten-free flour if you can't use any but flour)
4 eggs
1/2 of a lemon, juice and zest
2 tbsp of coconut oil
1/2 cup of swerve or maple syrup
1 tsp of vanilla
1/2 tsp baking soda
1/4 tsp salt
1/2 tsp of MCHEF GRANDMA SWEET PUMPKIN SPICES
1 cup raspberries and blueberries (fresh or frozen)


Instructions
Preheat the oven to 350 F and place grill in Center if the oven.
In a bowl, whisk together the eggs, sugar (swerve or maple syrup), lemon juice and zest, coconut oil and vanilla.
In a separate bowl, mix together the flour, baking soda, and salt.
Bon appétit! Make a double batch if you can and freeze them! It's a great source of vitamins and nutrients for best breakfast or snacks to go!
Find Chef Marie's new cookbook of 100 low-carbs and gluten-recipes absolutely delicious recipes: CHEF MARIE LIFESTYLE FOOD GUIDE! Click here on this link for more details! Bon appétit!