"Not only are this creamy vegan recipe is full of vitamins that will keep your immune system in good shape, they're also always so delicious." Crockpot recipe made easy by Chef Marie!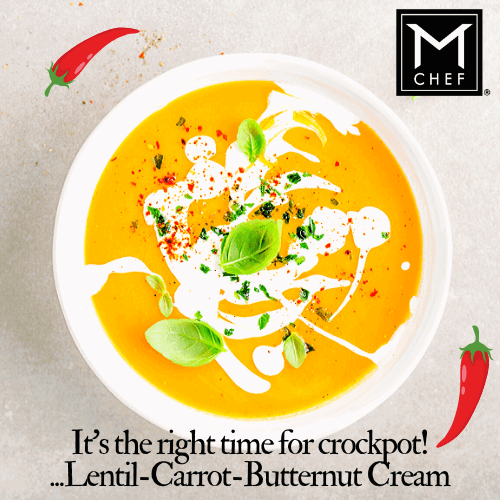 👩‍🍳Instructions, turn on crockpot on height temperature and ADD:
1 tbsp of coconut oil
2 Spanish onions, chopped
5 carrots, peeled and chopped
1 generous butternut squashed deseeded and chopped
1 tsp of the SOUTH OF FRANCE MCHEF® or of the THAILAND MCHEF® Premium Spices for your health benefits 🤩
1 piece of grated fresh ginger
1 cup dried red lentils, rinsed
POUR:
1.5L of boiling water or vegetable water
1 can of coconut milk
Cook on highly until vegetables are cooked through and lentils are soft, 2 1/2 to 3 hours. Serve warm and add a tsp of vegan 🌱 « sour cream » or « cream ». Add a little heat too if you like to boost your immune system with few punches of Cayenne pepper. Bon appétit!
Find Chef Marie's new cookbook of 100 low-carbs and gluten-recipes absolutely delicious recipes: CHEF MARIE LIFESTYLE FOOD GUIDE! Click here on this link for more details! Bon appétit!