Chef Marie has been an executive chef in French restaurants, private chef, and caterer for the past 23 years. She specializes in healthy gourmet, meal prep, gluten free, paleo, keto, diabetic diet, Mediterranean, vegetarian, vegan, restricted diets and other cuisines French, Moroccan, Italian, Asian, etc...
The story behind the passion: A few words from Chef Marie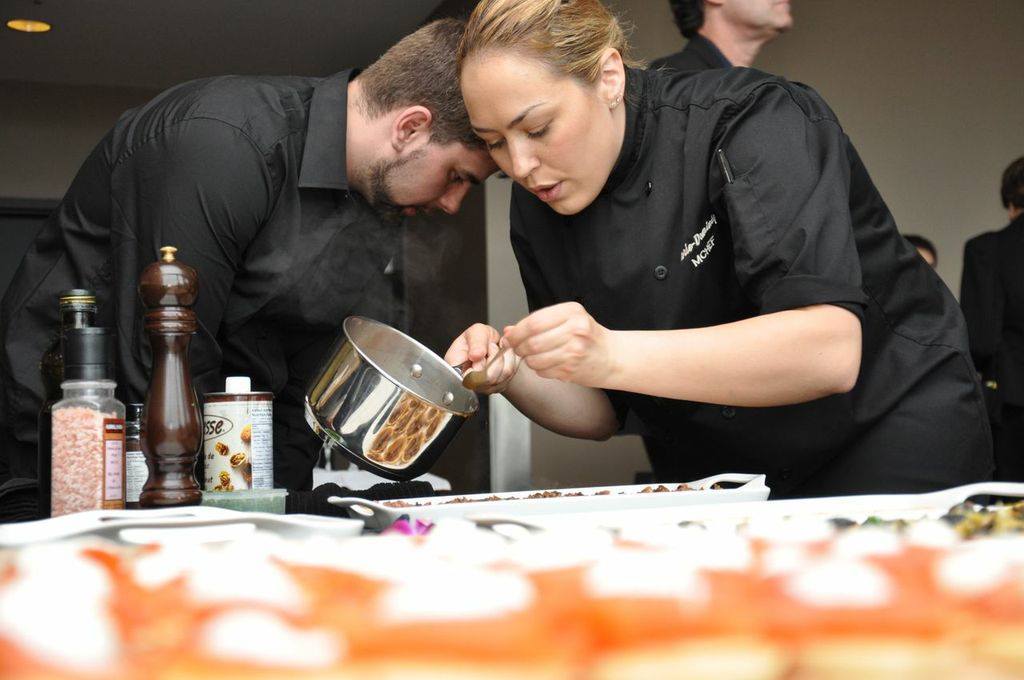 Welcome to my creative space: healthy cooking at service of foodies. Since 1999, I am constantly in the search of improving top chef ingredients, influencing trends and perfecting new cooking skills. I am a business owner since 2003 and chef-owner and founder of MCHEF® since 2009. I studied at the Culinary School titled "Institut Tourisme et d'Hôtellerie du Québec" in Montreal QC. Canada from 1999-2003 with Chef Jean-Paul Grappe whose teachings and inspiring guidance led me to discover the cuisines of the world.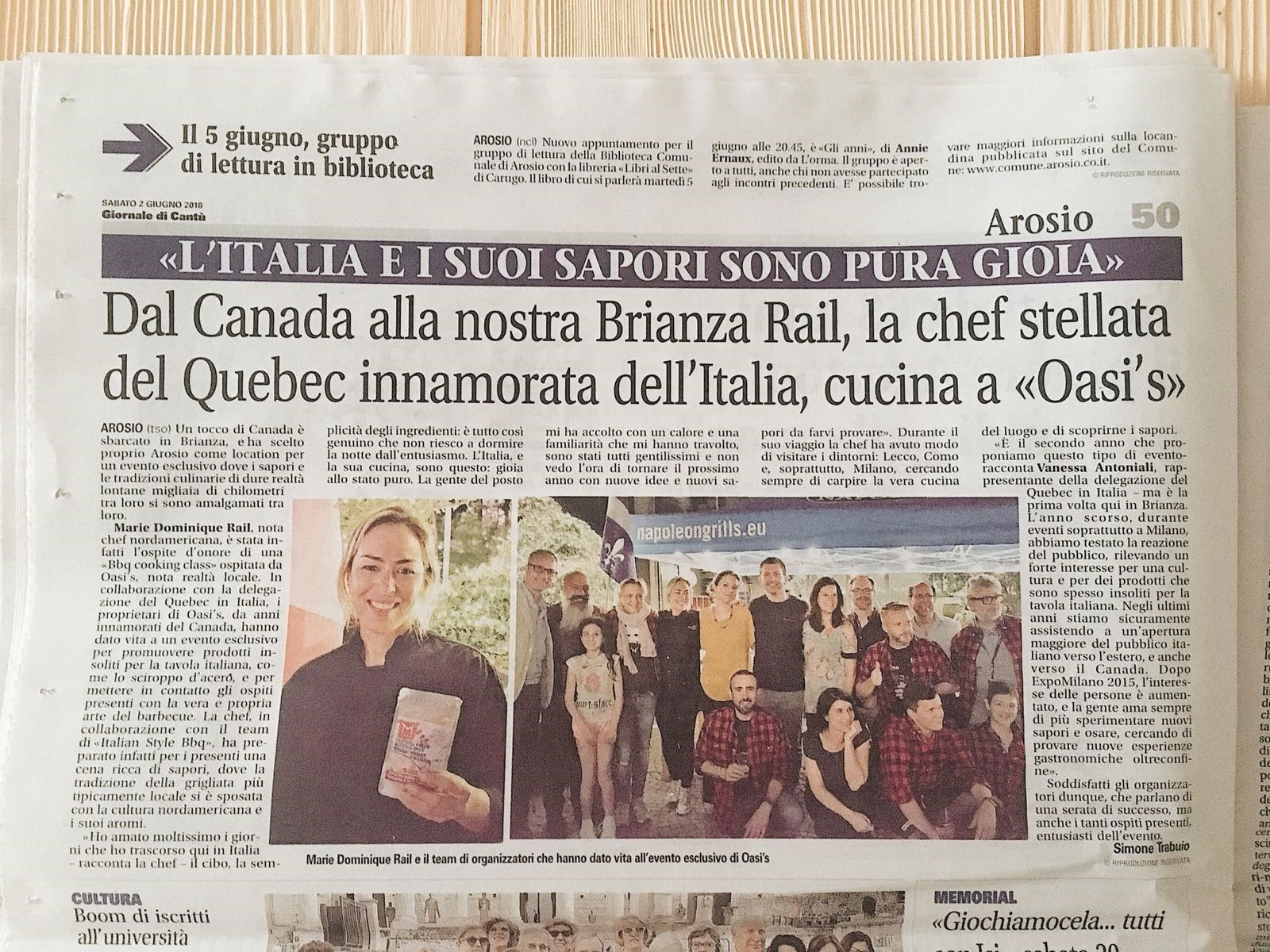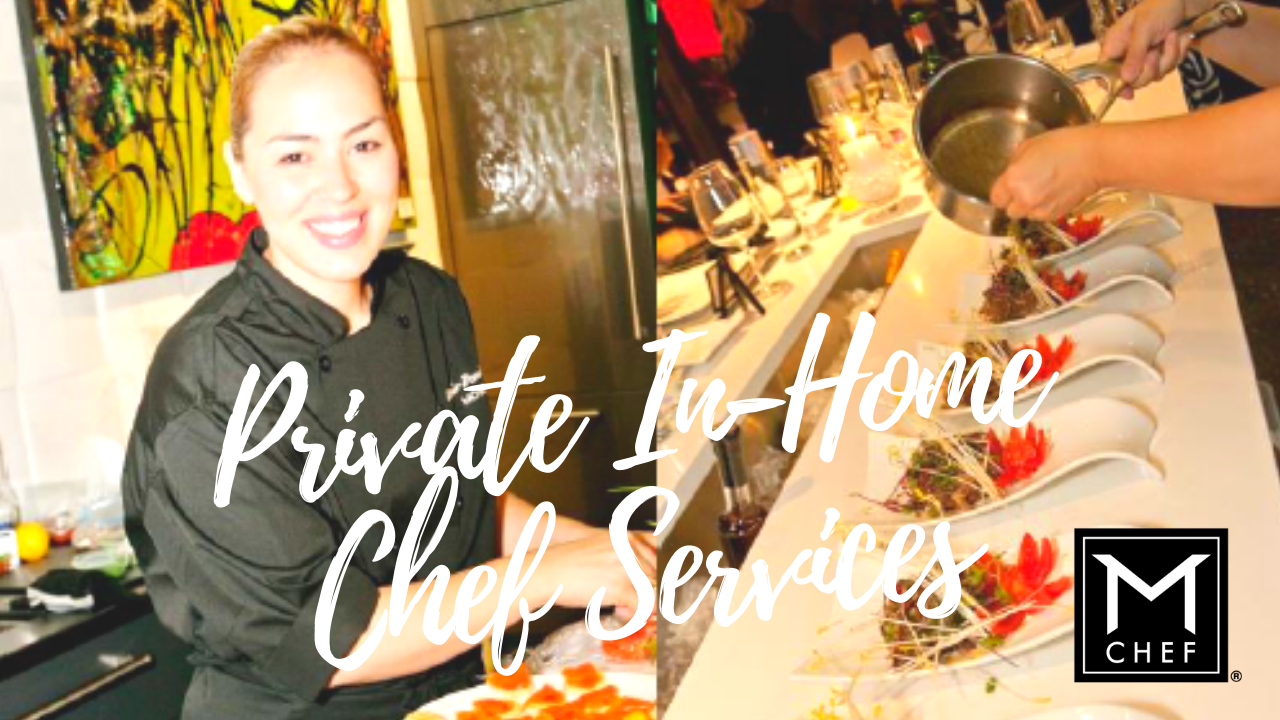 I kicked off my career working in restaurant kitchens in Montreal back in 2016, gradually rising to the position of Chef in a 10 year of professional training achievement. 15 years ago, working in the restaurant kitchens, our team was responding to customer demand for special menus with restrictions like salt free, gluten free nuts free, etc. In 2009, a grassroots business idea flourished into the new and innovative business of a higher scale of "Chef at Home" services. At the request of loyal customers, I created gourmet-style meals consisting of all natural, allergen-free, and low in sodium herbs and spice blends that would delight even the most sophisticated of palates.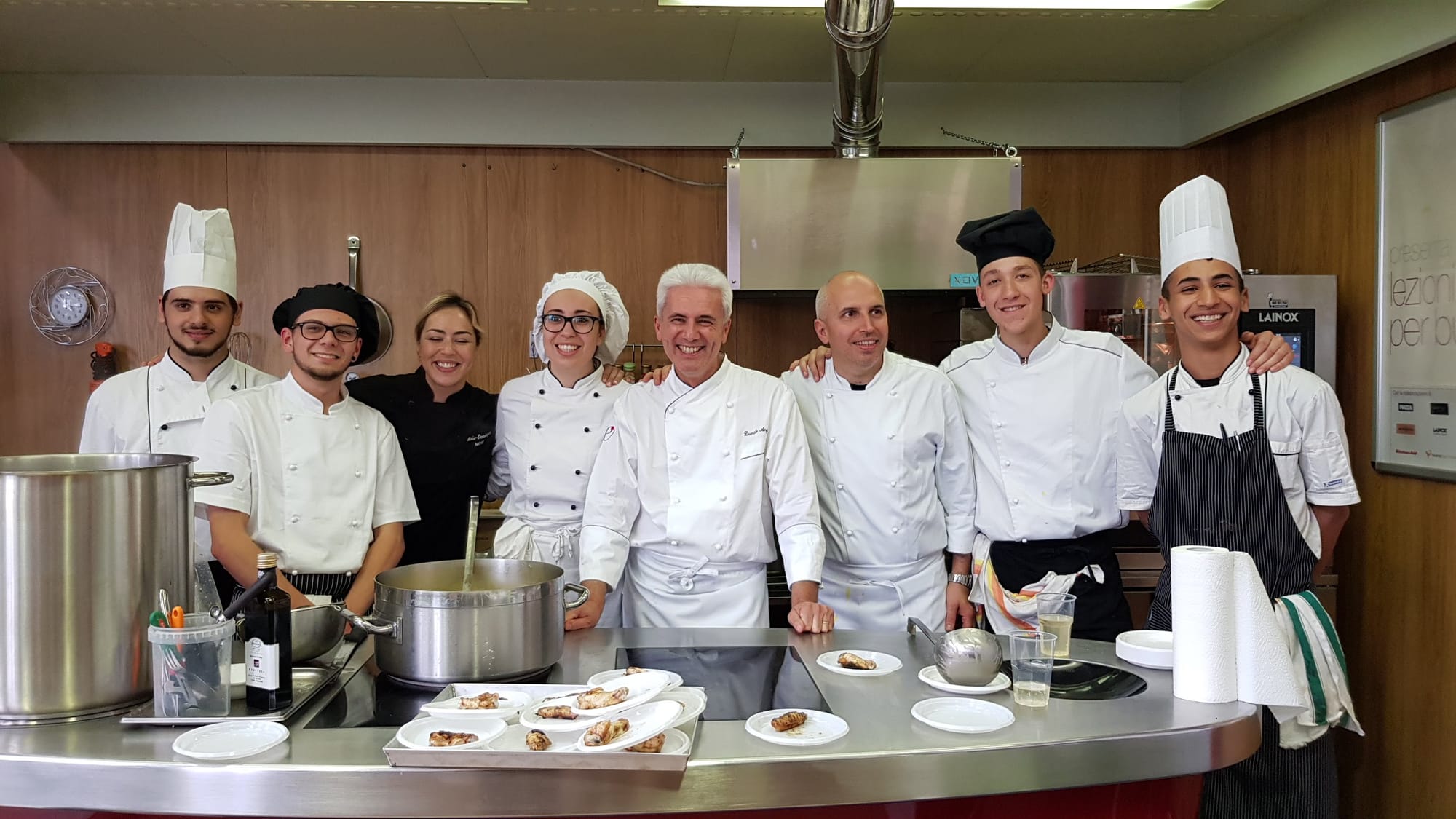 My search as a flavor developer-spice sommelier brought me to discover the infinite possibilities that spices and herbs can offer. Therefore, I made it a mission of my own to share with all a variety of unique and delectable ethnic blends that showcase the best cuisines of the world and bring awareness in "clean label" quality herbs and spices. The ethnicity of flavors is for me the most beautiful way of discovering the cultures of my environment.

My mission is simple: "Continuously develop and improve flavors, raise awareness about the use of wholesome ingredients, herbs & spices and share the results and findings without compromise, while allowing for dietary restrictions such as sugar, gluten, nuts, allergen and low in salt".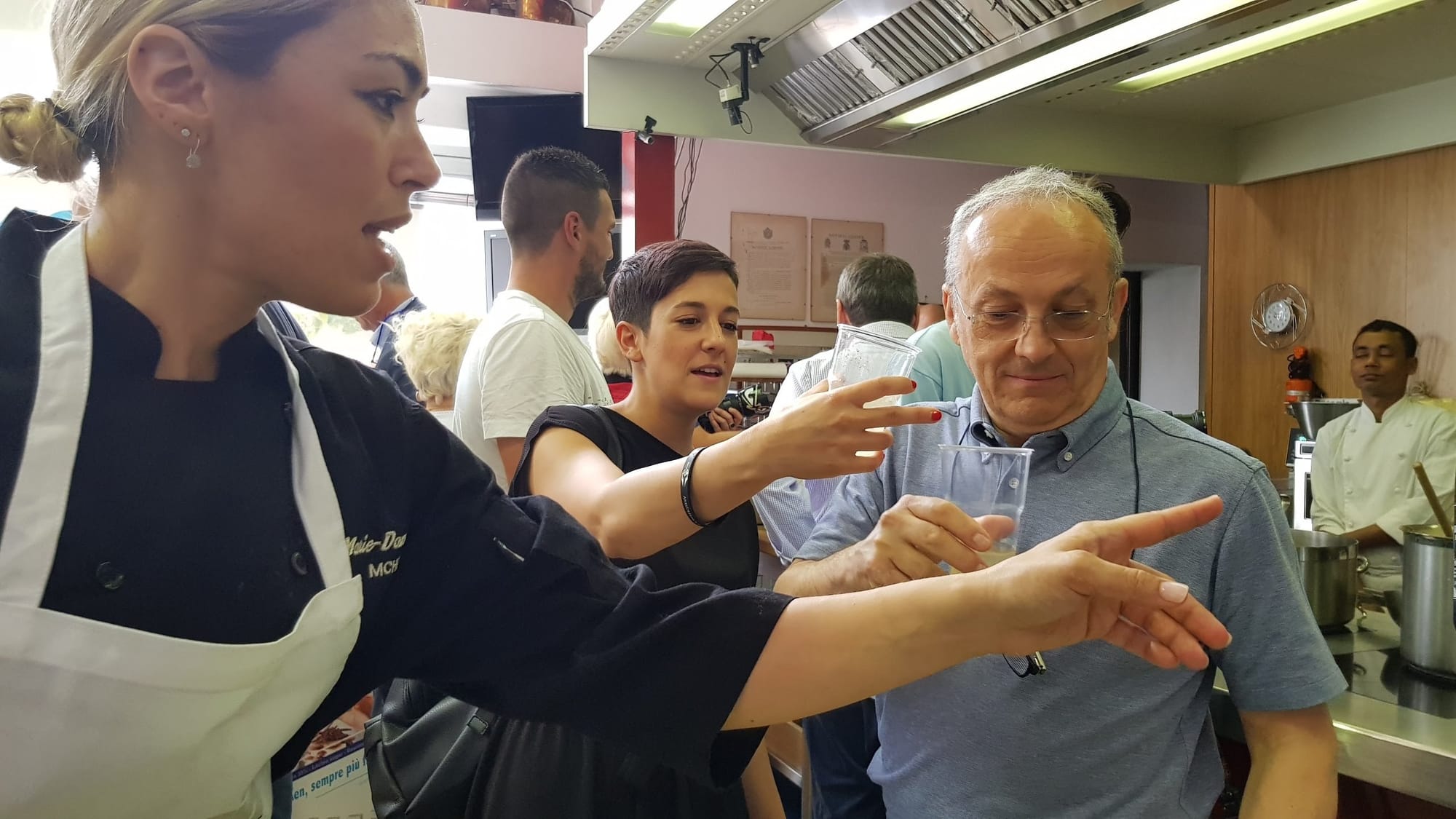 And the passion grew in me. Discover fresh, colorful, trendy, exciting recipes made with love! Chef Marie is specialized in Allergen-free and Low Sodium French Cuisine. Chef Marie shares Healthy Clean Eating Nutrition tips with PASSION! I am on a mission and travel the continents to bring awareness about food and about new flavors that can bring joy to cooking. I did masterclasses events in London, Lyon and Paris, Milano and Morbegno, and I am newly established in Las Vegas promoting products and services. I am an R&D expert in allergens, author of the Chef Marie's Lifestyle Food Guide Cookbook and hosting MCHEF® Burst of Flavors podcast on IHeart Radio with Lee Cummings. I share my journey, researches, cooking tips and techniques, to impact the next generations of professionals, home cooks, health nuts and foodies. Discover new ways in cooking, baking and newly mixology trends with me.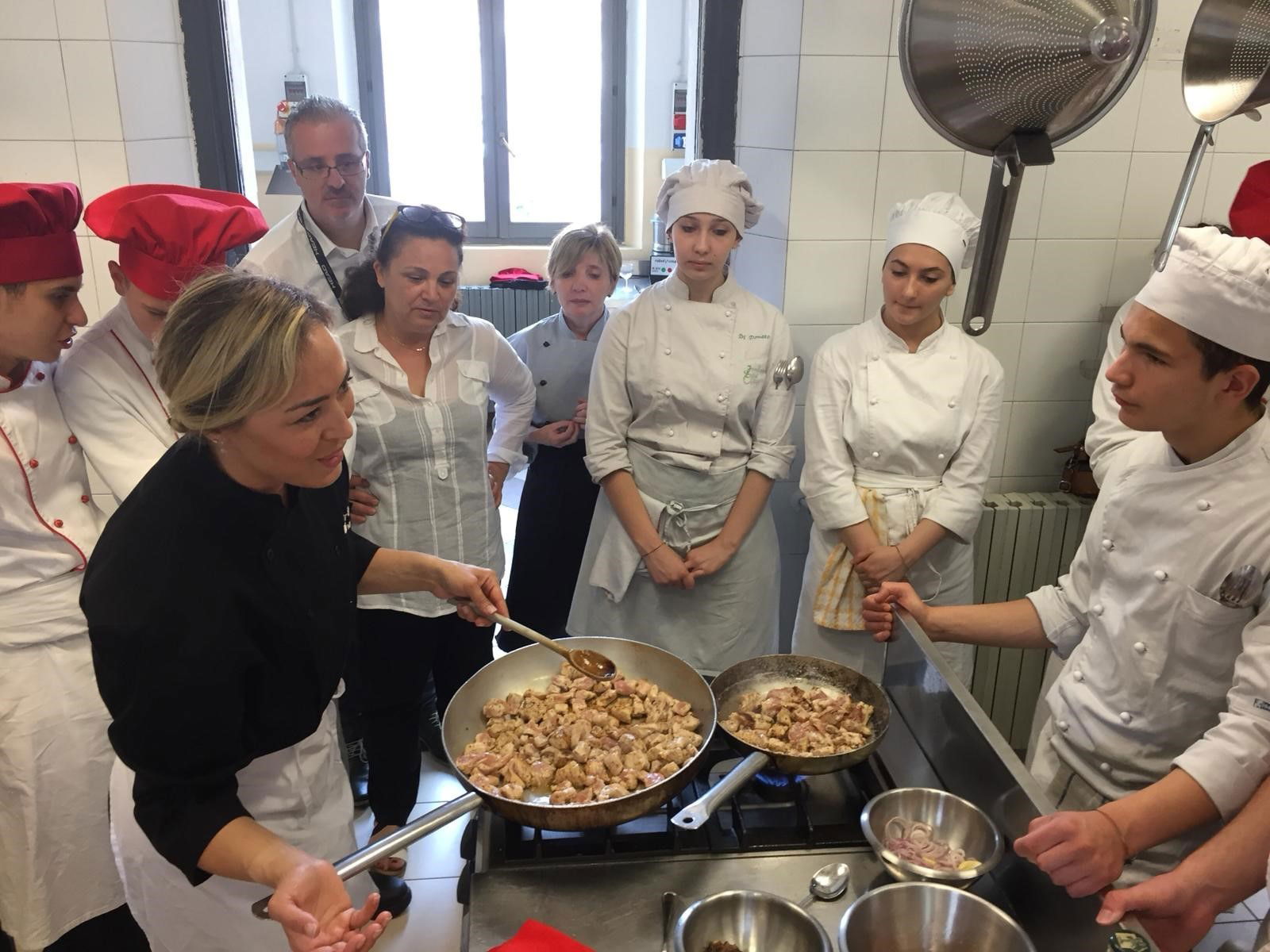 As a CHEF CONSULTANT, here is a few of the projects that I have developed over the years.

---
CONCEPT AND IMPLEMENTATION
AT
LA BELLE TERRE BAKERY LAS VEGAS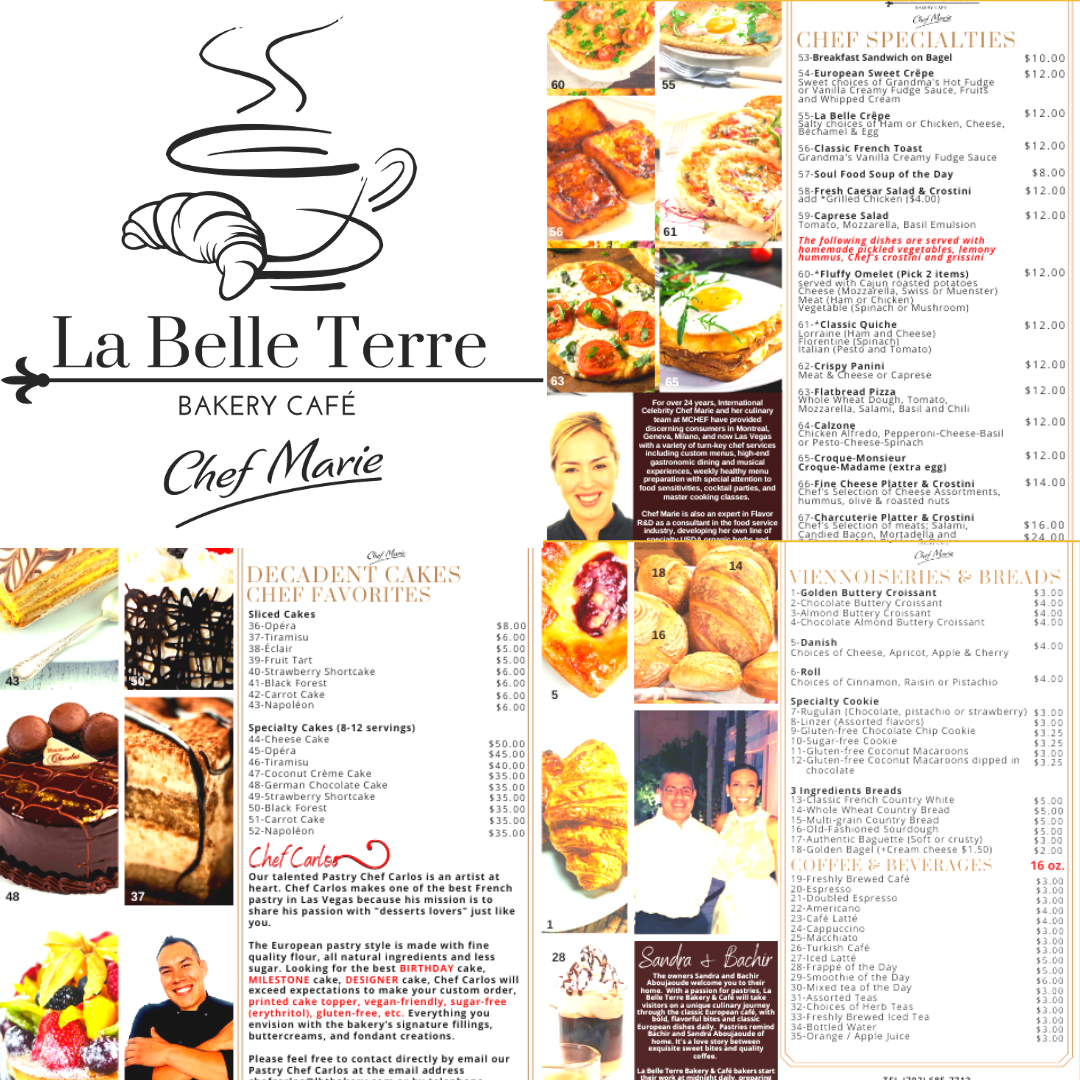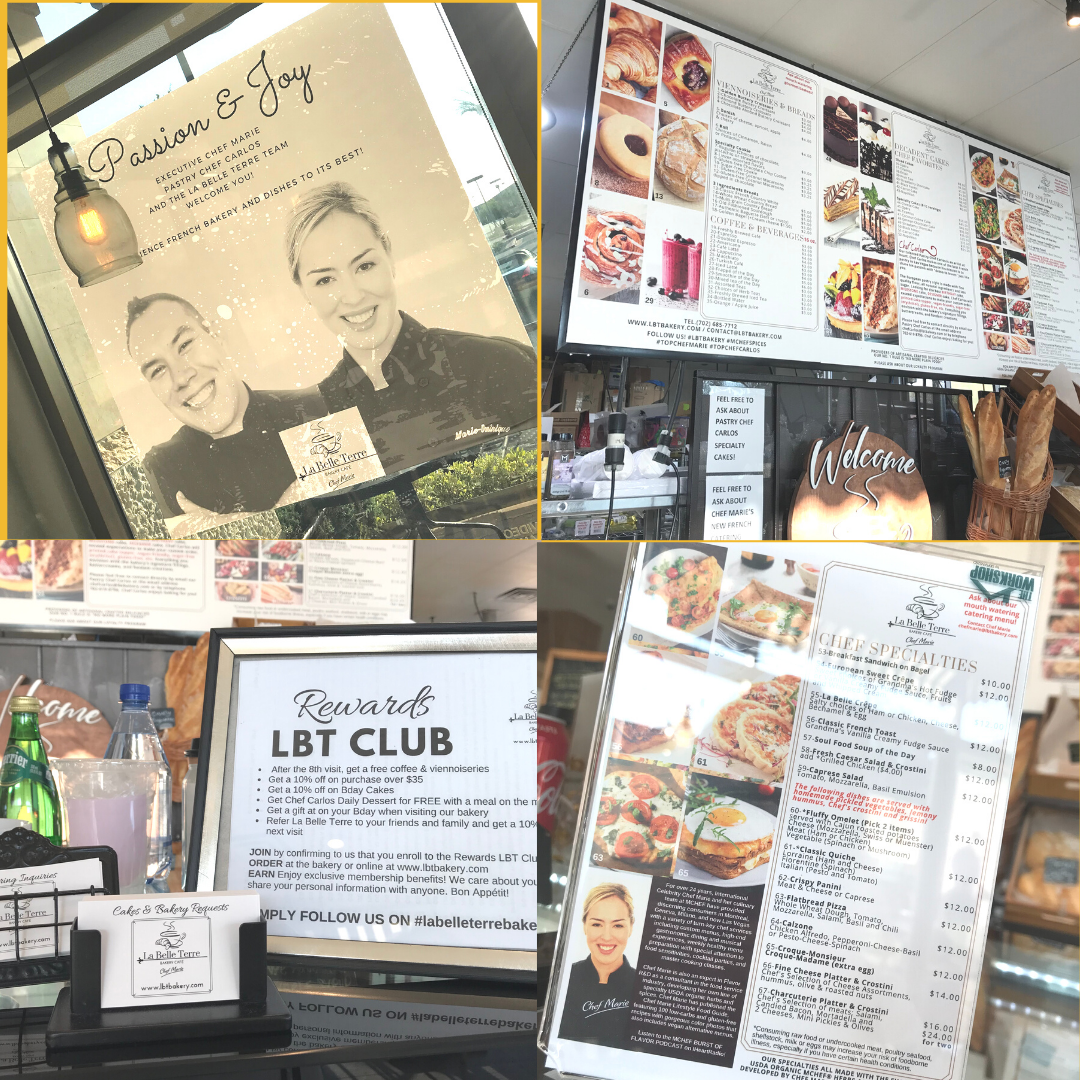 ---
CONCEPT MENU DEVELOPMENT
AT
NOTORIETY LAS VEGAS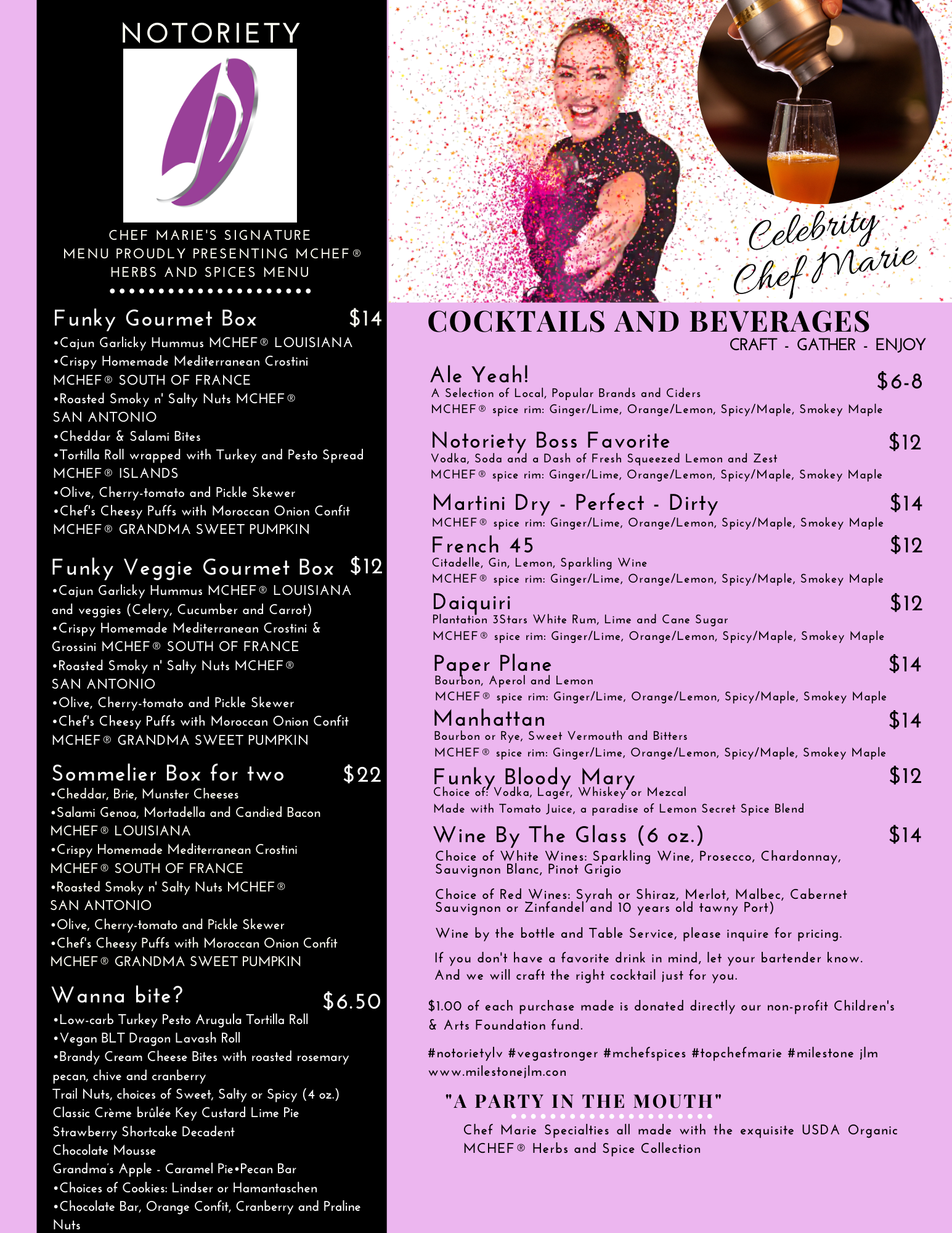 FOOD BAR MENU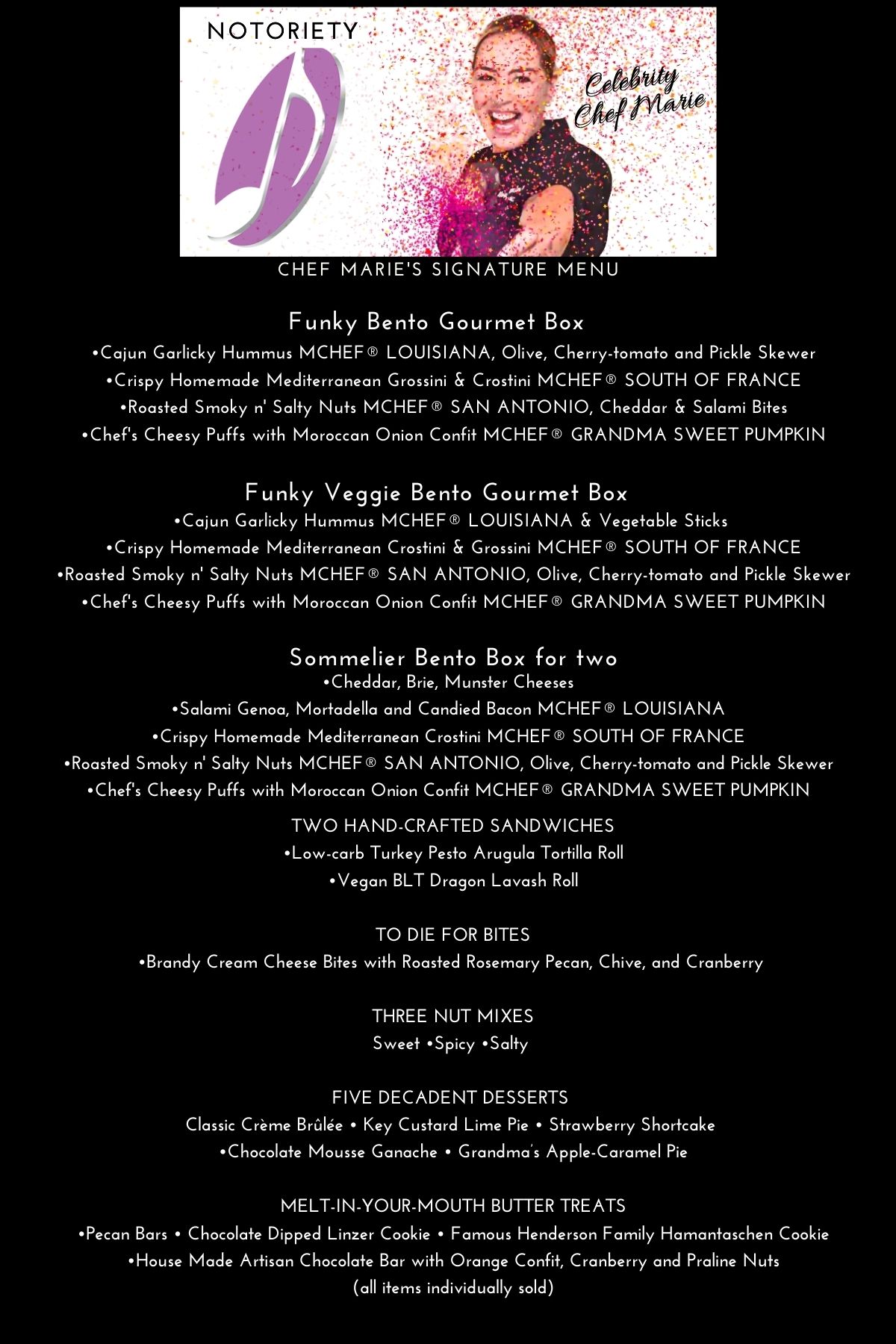 COCKTAILS - MIXOLOGY MENU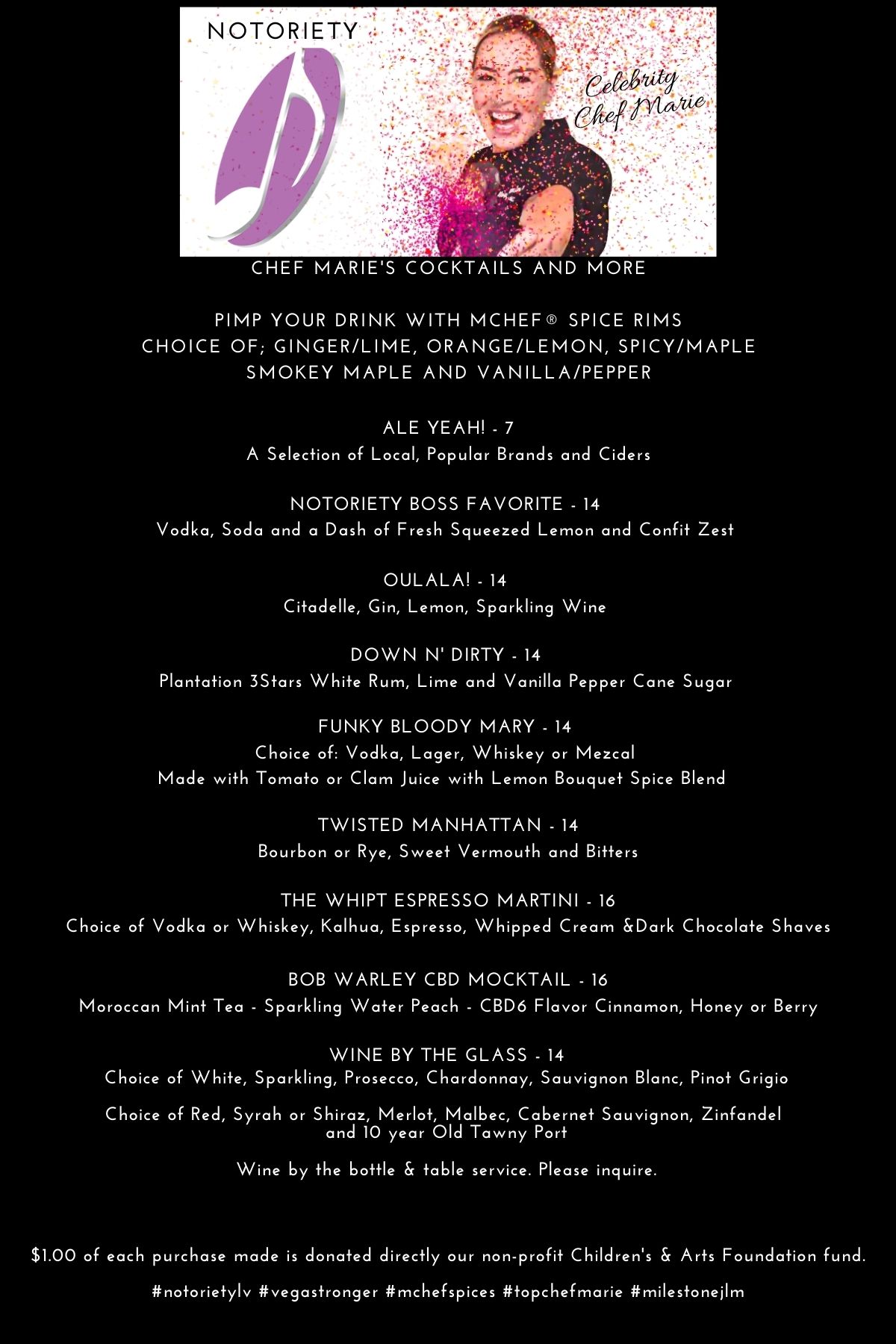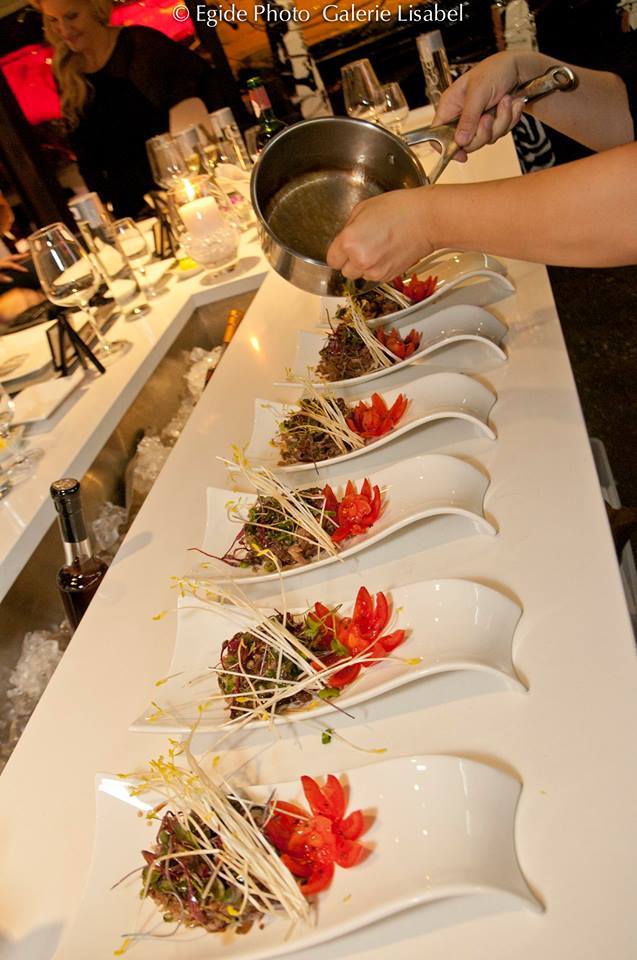 For over 15 years, as a chef-owner and founder of Entreprise MCHEF Inc. in Montreal QC Canada, Chef Marie showcased a unique musical and gastronomy experience to the liking of her guests. A unique value to the succes of a memorable event with romantic piano concert at the dessert course. New catering services were implemented back in 2008. This is one of the greatest success that Chef Marie is knowned for.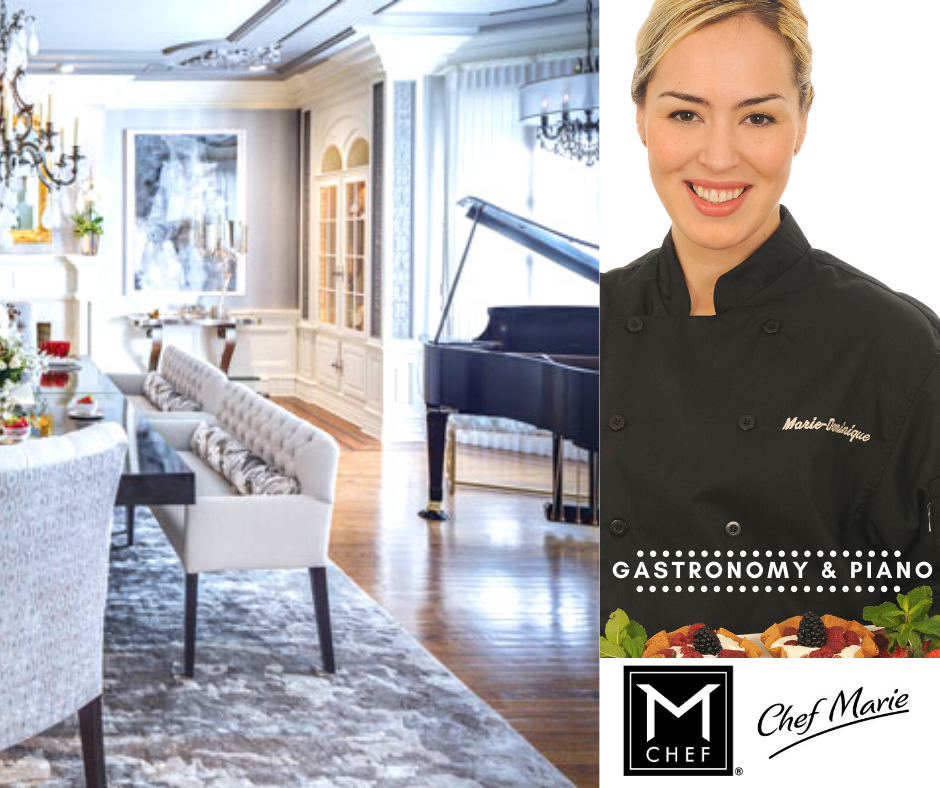 As a souvenir of the event, Chef Marie always offered gourmet gifts. You are interested to live this unique event, contact Chef Marie for a quote 702-482-2886 / info@mchef.com