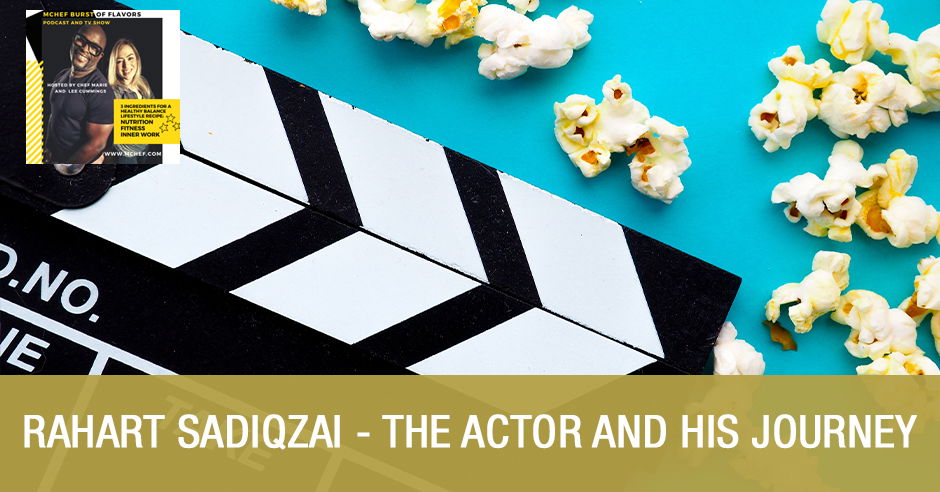 Making it big in the movie industry takes guts, dedication, and perseverance. Rahart Adams is an example of someone who has worked his way from one audition to another to reach his goals in life. This young talented and beautiful being has been living and pursuing his passion in Los Angeles. His previous works include Pacific Rim 2 and 3, and he is currently starring in Starlight, a new horror movie directed by Lee Cummings and produced by Jeffrey Allard. In this episode, Rahart takes us back to his childhood and teenage years and shares how he started in the acting industry and what he does to prepare for auditions. Today, discover how Rahart is making it in the entertainment world.
---

Rahart Sadiqzai - The Actor And His Journey
We have the wonderful, Rahart Adams, who is an actor, also an artist as well but mainly he's been doing acting for many years. I'm going to read some of his accolades off, so we can get through some of this stuff. I got a chance to work with this guy and he is absolutely on point always. He was born in Melbourne to the first generation Australian-Pakistani/Maltese parents and the second-oldest of four children. We got to talk about that because I didn't know you had brothers and sisters. He's an accomplished actor having spent his teenage years and early twenties performing predominantly both in the United States and Australia, which is pretty amazing. You threw me off when we were in LA when we did that casting call and the movie for Star Light.
While at the Australian Film and Television Company from 2012 to 2014 and in various schools across the city performing arts, he made a television debut on Australian soap opera Neighbors as Alistair O'Loughlin in 2012, 2013. Subsequently, Rahart went on playing the lead role of Sam Conte in ABC TV series on Nowhere Boys from 2013 to 2016, which is very close to us in 2017 for Star Light. Nowhere Boys has won multiple awards around the world including the 2016 International Emmy for Best Children's Television Series, the 2016 British Academy Film Awards for Best Children's Television Series and multiple stream Logie also for the Best Children's Television Series. Let's talk about Emo, which is a musical. I didn't even know you could sing, which is off the chain. You played a supporting role.
I played a footballer with a good friend of mine. I played his little brother, a good friend of mine, Firas Dirani. He did a show called Underbelly that I used to watch when I was younger. I always said to myself that I'd worked with him one day and it happened. I was able to work with him and we're actually good friends now. It's cool. I played his little brother on this show called House Husbands back in Australia. I've got to work with some pretty awesome Australian legends. It was a lot of fun.
That's pretty dope. I'm going to bring one more thing up. Of course you're in Star Light, the movie that I co-directed with Mitch Altieri. Let's talk about that a little bit before we dive back about brothers and sisters and who you are. I know people have seen your accolades and stuff like that, but let's talk a little bit about working with John Boyega. You played a Jaeger pilot as a cadet. How do you say your name completely? I can't even pronounce it.
It's Tahima Shaheen. I played the Jaeger pilots, the Cadet Jaeger pilots. We were the new generation of Jaeger pilots to come through. Our whole story was that we had been rolling into the Jaeger system that the whole universe of protecting the world against Kaijus from a young age. We were vetted from a young age. Our characters were vetted from a young age and then brought to the barracks to train to protect the world from the Kaijus. That was where my storyline picked up along with all the other cadets. There was a few of us. That was an amazing project to be a part of. It was incredible. We shot a few months in Sydney, Australia. We did some things out in LA for VFX. We shot in China in Qingdao for a month and a half-ish. That was incredible. I love filming things like that.
You are able to be in something huge and a $150-million budget film or $190 million or something like that was crazy. It's super big. I'm a Star Wars geek and stuff like that, so I'm geeked out about the fact that you work with someone that's in part of the series, John Boyega, of course.
He's a nice guy by the way.
That's what I hear.
He's so awesome.
I would say that he's very bubbly on set, but your heart is very intense. He's a wonderful actor to direct because I remember a scene with Fahar. I can get this super visceral and super macho with you and then you get into the scene and into the role. He's always working. I could see you working. I'm so glad you didn't die because you're going to be back with part three, which is going to be amazing. He didn't die. In Pacific Rim 2, Rahart got hurt if you haven't seen it but he didn't die, which means he's back for part three. I'm pretty stoked about that. I know he's back because you said you're back.
It's not happening until it's happening.
It's not happening until it's happening but at least with all things being said with the universe, blessing you with the amazing role that you already had. I didn't mean to jump over what you were talking about the story. I was so hyped about being able to push you around and talk to you. You're a real actor. I enjoyed working with you because of the fact that I could be in that theatrical realm and then push those film elements with you. You're always there. Can you talk a little bit about the process of you getting ready for a role before we go back to everything else?
My process is different for every role depending on what the character needs, depending on what the character is, who the person is. I've had different roles and goals for different things throughout my career so far. I haven't had a huge long career yet, but hopefully it progresses. It's a very long, prosperous one. At the moment, I've been lucky enough to play a bunch of different characters that have called me to do lots of different things in terms of preparing for a role. When I prepared for EMO the Musical, it was the satirical comedy that we shot in Melbourne, Australia. That was incredibly fun and I was almost hesitant to take the role because it was something that I'd never done before. Satirical comedy at the time didn't feel like something I could do. It didn't feel like something I was capable of doing and I was nervous to even go in the room or audition for it. My dad said to me one day, "You've got to attack what you're afraid of doing. Otherwise, how would you know what you're capable of?" I went down and did the audition.
I was originally going for the lead. I had rehearsed one set and one character. When I was in the room, the director and the producers gave me a script and said, "We loved your performance and your song, but we actually think you might be better suited to the bad guy in the movie. We think you'd be more suited to play that guy." I said, "What's his name? Tell me a bit about the character." They're like, "His name's Bradley. He's this badass emo kid. He's the lead singer of this rock band at the school. We think you'd be good for that role. Can you read the sides right now? Can you do an audition for it right now?" I said, "All right." I did it and then ended up booking that role. The process of creating that character was quite a long one because I never listened to rock music prior to that role, so I had to dive deep into rock history and research frontmen of famous rock bands and rock personalities.
I sat down with the director and the producers and shaped this character from the ground up all the way from the nail polish that he wore to the specific jewelry that he wears and eye makeup down to his posture. The way he plays the guitar, what makes him tick, which characters play certain roles in his life that compared to people in my own life was an easier way to relate to the character in that respect. I can relate certain characters in that script to certain characters. The characters are people in my life. That was the process for creating Bradley. I had to dive deep into an area that I had never explored before. It was a lot of fun doing that stuff because at the end of the day, I could switch off and go back to Rahart and then the next morning, I could switch on and go back to the Bradley. It's fun.
You share something common with Chef Marie. She's done nine albums or something like that. She plays piano as well and sings.
No way. That's incredible.
She sings and plays the piano. She's a pianist like yourself.
Playing the piano is a lifelong hobby of mine. I started playing when I was five or six years old, so I've kept playing. Whenever there's a piano around, you'll catch me on it.
You could do everything that you are doing, all this detailed work because you dive into your roles each time. This is a methodology of life. This is the way you're disciplined. This is the way you work. If we go back into where you were playing the piano when you were a kid, then how were you as a kid? Did you have an imaginary world? Were you very strict when you were learning? How were you?
When I was a child growing up, specifically piano and whatever else I was doing at the time, I was lucky enough to have a mother who pushed me to pursue the creative arts and pushed me to pursue the things that I was interested in at the time. She would make me sit down and practice. Honestly, if it wasn't for her pushing me to pursue these things, I wouldn't be doing them right now. She has been the biggest support system for things like piano growing up, things like acting and with the creative arts, the same with my father. They're both incredibly supportive. I'd have to say that my routine as a kid was very based upon the way my parents lived their lives. They were very ambitious and very determined in the way they pursued everything. It rubbed off on me and I was very determined to pursue a lot of things. When I was a kid, I don't know if you were the same way, but I would do lots of things and I'd get to a certain point where I'd be at a certain level of competence I guess you'd say. I'd be like, "I enjoyed that. On to the next thing." I progressively kept doing a bunch of different things until I found acting. As a kid, whatever system I had in place came from my parents. They pushed me to do almost all.
They were your biggest supporters or your support network. You're not very old at all, so you're very young. I'm trying to get a sense for the readers. What was the process as you matured from ten to eighteen? What were you doing?
During that period, a lot of things happened in my life, big changes. I guess that started from moving out of the inner-city suburbs when I was a kid to the outer city suburbs and it was a completely different change. I grew up in the post-9/11 era as a child. As a young Muslim, that was pretty difficult because I didn't understand nor fathom what was going on. I had to move schools in the other city suburbs two or three times. It was pretty rough getting into fights all the time, getting into tons of trouble. That was from ten to maybe fifteen. I was living in different schools. I went to a few different primary schools, a few different high schools. During that time, I was break dancing and I was in a hip-hop dance group and we went to Vegas for the World Hip Hop Championships in 2015. I wasn't able to perform because I almost broke my back two weeks before that. I had to pull out of the competition, but I still went through. After I hurt my back in 2015-ish, I started to take acting a lot more seriously because I still want it to be creative and I still needed something like an outlet to express myself, some physical and creative outlets.
Acting is the next best thing to dancing and from there, that whole ten to eighteen period, once I hit about fifteen, my career started. After my first gig on Neighbors, I got Nowhere Boys. The rest is history. After Nowhere Boys, working with those guys, we didn't know at that time where the series was going. When we were shooting the series, we would come and sit and we had no idea how lucky we were to be working with such amazing people. We had no idea. We're so green. We're so new to it all. We had no idea how lucky we were to be a part of this world at the time. I'm pretty sure I can talk on behalf of all four of us that would relate to that show.
We don't even realize how blessed we were to have that opportunity. From there, I booked a Nickelodeon TV show that we ended up filming in Miami, so I moved to Miami when I was seventeen. I grew up there, I guess you could say. I went from a boy to an older boy or a younger man in Miami. From Miami, I went back and forth to Melbourne because I was still filling Nowhere Boys at that time. I would film a season of Every Witch Way and then film a season of Nowhere Boys, a season of Every Witch Way and then another project. It took me all over the place. It was a lot of fun during that period of time in my life. We went from Miami to LA, LA to New York, New York to Canada, Canada back to LA, LA to Melbourne. It was a few years of my life where I was going back and forth. There was no real place that settled in until now.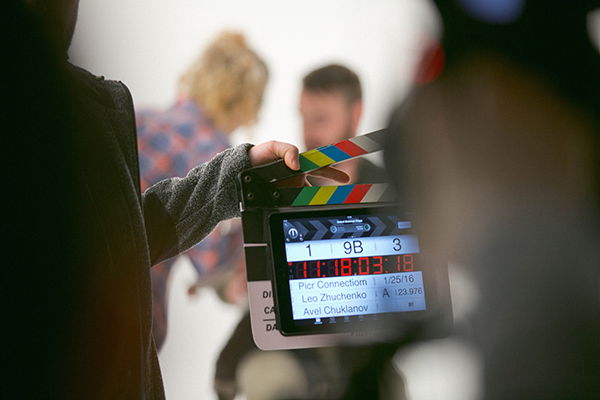 Rahart Adams: Acting is the next best thing to dancing.
Until now? Have you found your anchor?
I like to think so. I feel like I've been in LA for three years now, living here for three years and it's been amazing. It's been beautiful enough to stay, that's for sure.
I like to think so. I feel like I've been in LA for three years now, living here for three years and it's been amazing. It's been beautiful enough to stay, that's for sure.
I want to say something, I don't know if you want to talk about this or not. You don't have to, but I listen to your story and I'm always trying to find smaller stories and microcosms that are inside of your world that people might not understand. I lived in Germany for a little while because my dad was in the military and then I came to the States. It was cool before Disney. Disney now owns Star Wars. They bought it from George Lucas. For me, whenever I went to schools, I was the only black kid in every single class. Someone was always going to say something crazy. What was your crazy? I think people say things about people of the faith of being Muslim and stuff like that. Do you speak Arabic? I never even asked you that. Do you speak Arabic as well?
No, the only language I speak is English. Both my parents can speak English too. The rest of my extended family speaks Farsi, Arabic, Urdu, Pashto. I unfortunately didn't get to learn any of that. I wish I learned, I wish my grandfather told me a bit, but he was more concerned about the kids in his family assimilating and being more Australian because he didn't want it to be hard for them to grow up in a new country. I guess he didn't even foresee the future political climate that we live in now. You said you were the only kid color in your school and your grades and stuff. It was similar to me in a way, but there were only a few Muslim kids in my area at all and I was the most ethnic kid by far in my class and my grade.
I didn't even comprehend that at the time. I didn't understand at the time why I was different from everyone in their eyes, why I was different from them. I coped a lot growing up because of my ethnicity and my name. Although I may not look a certain way for people to classify me as a Muslim or Middle Eastern or European, it did separate me from the rest of the kids in my grade, but that's high school. In primary school and high school, kids are cruel. They don't understand the world yet. I don't hold it against anyone at all, all that stuff that I coped with when I was a kid. I used to pop a lot of pointless racism and all that stuff that I don't pay attention to anymore. Back then, it was a lot. These kids would perhaps have their own environments and they were just kids. I don't hold it against any of them.
How did you cultivate your imagination, your creativity and your joy when you were a kid? Did music help you through this or other passions?
Yes, I was lucky to grow up in a big family. When I say a big family, I mean my whole extended family. We all lived pretty close to each other and we would spend almost every living moment together. My cousins grew up next door to me. My other cousins lived down the block. My other cousins lived a few blocks away. We lived closely for a long time. When I moved schools, when I moved away, we all stayed close. We still are to this day. I used to listen to music to get me through the tough times. Anything creative was a great outlet for me; music, dancing, getting to connect with people on that level does away with all the differences that everyone classifies themselves as being different from one another. When you get into a creative space, all those things disappear. It was a nice avenue for me to be in a nice atmosphere to be a part of when you needed to get away from the crazy growing up high school era.
I want to go back a little bit and talk about the first time I met you for Star Light myself, Jeff and Cheryl are in the room. Jeff is knee-deep and Cheryl is looking up who's most famous basically on laptops. You came in and it's bright lights, myself and Mitchell is sitting there. I'm probably 45 pounds heavier for sure. I've got a beard. I shouldn't be wearing a beard because my ex-wife was so mad I look fat. Rahart walks into the door for Dylan, the lead. He reached for Dylan and as soon as he starts talking, I'm blown away. I'm like, "Where are you from?" He's like, "I'm Australian." I'm like looking at him like, "How's it going to work?" You start speaking your lines. I'm like, "He has an American accent." People do that. I know I'm being stupid by saying it, but it was amazing. You switched it off quickly. Was that hard? Explain what was going through your head when you walked through that door and you see all of us.
Auditions for an actor are pretty nerve-wracking most of the time because a lot of the time, it's a job interview. At the end of the day, it's a job interview. You're walking in the door trying to win people over and get them to hire you basically. For us, you want to work with people you enjoy the energy. I make a point of walking into rooms like that one where I met you, Cheryl, Jeff and Mitch, being myself. I feel like that's done me well in the audition rooms. When I walked into that specific audition room, I was excited and pumped to get it done. Every now and then you get a project and you read the script where your nerves get the better of you and you either run away from it or you attack it.
Maybe it was one of those moments where I felt like I wanted to attack the nerves that were coming to me. When I met you guys, I realized it's good energy. Everybody is here to create a project and nothing else. It was a lot of fun walking into that room. When we had the chemistry reads and everything, my mom was there and she was choosing the lighting. She only gets to visit every now and then. It was lucky that she got to come to the audition. She hadn't done that since I was a kid.
Did you hear much about us or about the project or about Jeff? Did you hear from Paul Ruddy? I think Paul called you or your agency or something like that for the audition.
It was all through my managers and stuff but of course, I always do my due diligence. Before I walk into a room, I always try and get an idea of who I'm meeting, what they've done before so I have some context. I'm not going into a situation completely blind, even though sometimes that is my play, go and be myself and see how things go. That was 2017. When I went in for the room for that, I knew who everyone was. I walked in there knowing every person not personally as much as Google can tell. I'd seen the work that everyone had produced before and that's why I was excited to be a part of it. I'm a big fan of indie filmmakers and filmmaking in general. It was nice to be part of that project from the beginning, from the get-go.
You spent probably maybe about 25 days or so in Kentucky. I've never talked about my experience there, but how was that for you being in Kentucky? For me, I was blown away. It was crazy.
I enjoyed it. I think one of the best things about what I do for a living is that when a job calls for you to film somewhere else, you go and experience what that culture is like. You go and experience what that area is like. I definitely never experienced anything like that before. It was in Mayfield, Kentucky.
You would use the gun because we were doing some special effects and stuff like that which you will be blown away because the monster looks ridiculous. I'll go back to the girl because you can't tell who she is.
I've only seen Metropolitan America and being able to go into that area of the world was nice. The sunsets in Kentucky were beautiful. We were lucky enough to be filming during autumn where all the leaves are beautifully orange, red and yellow. There was a beautiful calm energy everywhere I went in Kentucky.
It was freezing. You're being nice.
It was freezing cold and there were no Ubers and I couldn't get anywhere.
We shot a summer movie in the wintertime, for our readers. I remember it being 24 degrees outside. I was shooting an outside scene with Cameron who plays Dylan. It was wintertime. The scene of you got that you got the Hawaiian shirt on, we had to do that outside. You guys would have been freezing. It was awesome. I enjoyed my time there with you. I'm glad it was cold because in the South, they have a lot of big bugs and a lot of snakes everywhere. It's the same for Australia as well but California, not so much.
It was no joke. There were tons of bugs. Trust me, I'm Australian. Don't touch that.
We always talk on the show, Rahart, about life, balance and inner work. What gets you out of bed right now? I know you have projects and stuff like that, but being creative and with directing, for me it's like being in service sometimes for others. For you, what is that? What's the bigger picture for you? What is your life five years from now? You're making it, you're doing your thing, you've done some big projects you've been with The Matrix with Keanu Reeves or something like that. That's great but what drives you? What gets you up in the morning? I know it's something but what is it?
To be honest, it's a mix of a lot of things and I've got to say it's different on different days. Right now, it's a lot about bettering myself as a creative and not just in the sense of acting. I do want to get behind the camera as well, do some directing and producing. Acting is not my only interest and my only forte. I'm very interested in directing one day and getting behind the camera and doing some projects of my own. That's what's getting me out of bed in the morning right now. Also, living life in general is good for what I do. It's getting up and experiencing new things that I'd never experienced before. I'm always excited to do that stuff. I get up and think to myself, "What am I going to do today? I'm going to do something different." I'll call my friends, see what they're doing, whether we'll shoot something, whether we want to explore and maybe get some ideas or write some things down, create projects, write some scripts and shoot it on the fly.
The thing that gets me up in the morning is the vision of being a better me and then getting to where I want to be. That's a turn on to me, to keep going and proving myself right and proving other people wrong. There are a few certain people who we've always been, "You're going to do something big one day. I'm always watching new stuff. I'm always looking out for you. I'm always supporting you." Those are the people I'm doing it for right now for also myself. That's the stuff.
Do you have this special ritual that you do?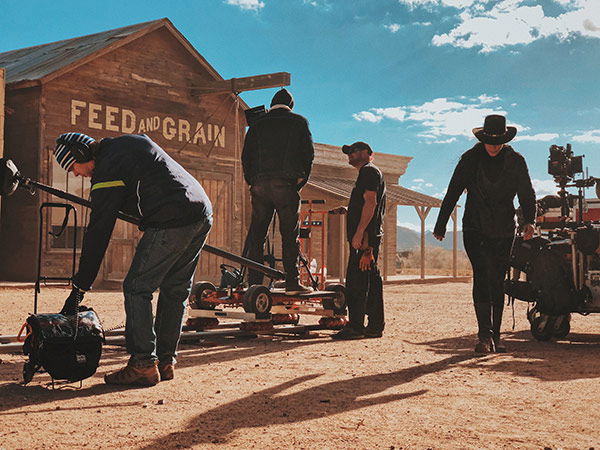 Rahart Adams: The best thing about acting or film-making is that when you when the job calls somewhere else, you experience what that culture is like.
I go through phases. The thing about being an actor is that you don't have a set schedule. It's so hard to explain because when you live in that creative realm, for me anyway, I feel like I can't put my whole being into anything creative unless the rest of my life isn't perfect emotionally, professionally health-wise and happiness-wise. If those things aren't aligned and working well, I'm not giving myself the best chance to put my whole being into being creative. My morning ritual is getting up, making my coffee and taking my dog for a walk, doing meditation and then getting straight onto my laptop, to my emails, phone calls and whatnot hopefully before 10:00, 11:00. Once that's done, I've got the whole day free to go home and do whatever I want. Sometimes, that's earlier on in the day I get everything done. Sometimes I won't even leave my chair until I have to go to bed. It's super different every day, but right now my morning ritual is getting up, take my dog for a walk, drinking coffee, making breakfast, doing some meditations, all that kind of stuff, being thankful and grateful setting my day right.
Being in gratitude as I spoke before on the show is probably where a lot of people in the world start. The meditation is so wonderful, but if you can't be grateful for the smallest things, which is being here and being well enough to either move your arms and if you have one arm, being grateful for having one arm, whatever that might be. Gratitude is always a perfect place. I love that about you and I can feel that energy from you. When I first met you, you've been such a light and such a great person to know. I know that we're going to continue on being friends and hopefully, to be working on the new project which we were edging Jeff on about. I think Jeff wants to do it. Mitch is totally down as always.
I'm super excited. I love the concept. I'm hoping things get picked up soon because I want to shoot it soon.
We wrote it for you. Did you see that photo that I sent? That was you. It's good stuff. Before we go to the recipe with Chef Marie, is there anything else you'd like to impart on telling people that are actors and actresses, creatives in general? Are there any words of wisdom that you can leave them with as far as that's concerned?
I don't claim to be a role model or anything like that. If there's anything I can part on to my peers or those in creative fields is you need to learn not to beat yourself up about things. Being creative is not necessarily a winning thing every single time you do it. At times, it's a very slow and painful process, but once things start working out, they start to work out and it feels good because we put all that work into it. It's like you go into it feeling one way and if it doesn't go that way, people tend to beat themselves up and forget about being grateful and thankful and in gratitude. They forget about it. They go into this snowball effect of summoning negative energies to themselves.
It's not only for you but for the rest of the world. The world would be a much better place. We have to start calling people out on that stuff. Don't be shy about that. I think that's not only for you but for everyone in this world. Marie is such a light as well like yourself. We have to hold people accountable now for those things. We have to be grateful when someone's like, "I'm not going to be upset at you, but guess what? We have to be grateful for those things." It took Jeff, you, Mitch and Cheryl to be at that place to even have that directorial debut. I shot some other films that didn't do much, but it took a while. It's part of the plan of the universe/God to allow me to be in that place of gratitude saying, "This is where we're at." I'm holding people accountable now.
I feel like when you live life with happiness being your priority, things start to shift and things start to change for the better, at least in my experience.
You are so gorgeous and you're beautiful. You're there. You're glowing. What did you eat?
I've read that you eat your food as medicine or one day you'll have to take your medicines. I've tried to adapt that into my everyday life. It's not easy because a lot of the times fast food and unhealthy things that I have grown up eating are so easily accessible. Comfort foods are so easily accessible. I'm trying to at the moment change my comfort foods to things that are healthier, because the current comfort foods that I have in my routine is so unhealthy. I think the reason you think of glowing is that I always eat food that I enjoy eating. No matter what situation I'm in my life, eating good has always been the biggest priority in terms of living standards. I grew up in the hospitality industry. My whole family are restauranteurs and all of that stuff. I grew up with food in my face constantly.
Rahart, thank you so much for the wonderful interview. Before we go to end our story, Chef Marie, do you have something that you can impart on these wonderful people? What Chef Marie does is that whoever the guest is, she makes some crazy dish. Go ahead, Chef Marie. What do we have?
Because you are Australian and I'm sure that you enjoy Vegemite, it's not about Vegemite and it's not a recipe about that, but I called it the Australian brain food booster. It's super cool. It's a shake that you can have at the beginning of your day right after meditation. It's super easy. There's avocado, coconut milk and nut butter. I always love to integrate a little bit of almond butter into the shake. Put a few drops of MCT. MCT is the way to go on right now. I'm on Keto. I put MCT everywhere. I've got to put MCT on your recipe.
A good friend of mine is on the Keto diet right now and he loves it. A good friend of mine, Zach Wolfe, talks about it and he says great things about the Keto Diet. Did you get into Keto diet as well?
That's how I dropped all that weight. I saw some pictures and it looked crazy. If you saw me in real life, I was so heavy. I'm telling you, it has saved me. I was about 240 pounds when I was with you. I'm 205 pounds or 203 pounds now.
He's doing it. He's making it happen. He eats all types of good fats, though. Going back into that Australian brain food booster, we've got avocado, coconut milk, MCT, almond butter and because I'm sure you like chocolate, I had to add a little bit of cacao powder to this to bring that color and then of course, PB, the peanut butter powder. It's so amazing.
You're right, that does sound like something I want to have right after a meditation session. I wish can still do breakdance and all that stuff. I still can but I can't do the back slips anymore. I can't do the head spins anymore. I don't even think my body's flexible and capable of doing that stuff.
That's the brain booster, correct?
It's 250 calories. You can go a long day with that. It has twenty grams of carbs and 35 grams of good fats. It's a good start.
The awesome recipe for the brain booster will be on our website. You can also find us on Instagram on @MChefSpices. Mr. Rahart Adams, where can they find you and IG?
It's just @Rahart_Adams, same on Twitter. All of my stuff has got the blue checkmark next to it, so you know it's me. That's going to tell you that was me.
You heard it here first from this man right here. There are two things we do. We do a quote. Before the quote, do you have a funny story to share with our readers?
Since we were talking earlier about my career stuff and getting to America, one thing popped into my mind. I've got a chemistry read audition for the role I had on Nickelodeon. I didn't have a business visa to work or even do meetings in America from Australia. At the time, Nickelodeon was like, "We need you in LA on Tuesday. Can you do it? This could be big." I said, without even thinking about it, "Of course I'll be there. What do I need to do?" I'm seventeen, by the way. I have no comprehension of how much work needed to be done. I said, "Yes, I'm going. I'll be there. Don't worry about it."
I found out I need to get a business visa. I'm like, "It shouldn't be too hard." I was wrong. I found out that I had to go to an American embassy in Australia, but it turns out the one in Melbourne was booked out for months. The one in Sydney, another state over was booked out and the only one with an available appointment the next day was in Perth, in Australia, which is on the other side of the country to where I live. I was talking to my parents and my parents said, "You have to fly to Perth tonight, go to the embassy the next day, get your business visa, then fly back to Melbourne so that we can go to America on Tuesday." I'm like, "Let's do it." Me and my mom flew to Perth. We go to the American embassy, but she can't come in with me so I have to go in there, completely blind not knowing what to do.
I go in there, being myself and like, "I need a business visa." They're like, "What for?" I said, "I'm an actor. I work on TV and movies in Australia. I'm looking to make TV and movies in America. I've got a job prospect that I'm going for now and that's why I need a business visa." They're like, "Okay, you have a three-hour-long interview or whatever." At the end of the interview at the embassy, they said, "We need your passport." I said, "Okay, great." They took my passport and they didn't give back and I said, "Is this meeting good? Do I get to keep my passport? I have to fly to American next week, on Monday or Tuesday or something." They're like, "Sorry, we can't give it back to you. We have to keep it for the weekend and if you get approved, we'll send it through the express post and there's no way you can check up. You have to wait for it to arrive through front door." I was like, "That doesn't seem right, but okay."
I left the embassy. My mom was waiting downstairs. She's like, "Did you get it?" I said, "I don't know if I've gotten it." She's like, "Go back up there and get your passport." The US embassy is considered part of the US, just in a different country. I go in there and security's tight and they're like, "We saw you ten minutes ago. What are you doing here?" I said, "I need my passport. I'm taking a flight. I need my passport." They said, "We're not giving it to you. We will kick you out and not let you into the country if you come back." I was like, "Just let me talk to the officer." They're like, "All right, whatever." I went and talked to the officer. They're like, "No, you don't understand. You can't have your passport." I go back down to my mom and she's like, "I guess there's nothing you can do. We just have to pray that you get the visa and that it comes back in time for you to catch a flight."
Two days passed. I went back to Melbourne and it's a long weekend. I can't remember what holiday it was but there was a public holiday on Monday and I was planning to fly on Tuesday so I couldn't even get my business visa even if it was approved the day before. The only way I was going to know it as if I've got it Tuesday morning and no one was picking up their phones. The embassy doesn't pick up the phones. They're looking for postage information. I had to call the post office, the postal company who was sending my passport to me. I rang them Tuesday morning, the day I was supposed to leave and said, "My name is Rahart. I have a package coming in for me this morning, I think. Can you check to see if there's an incoming package with my name?" They said, "We can't do that. You need to come to the docks where all the packages come in."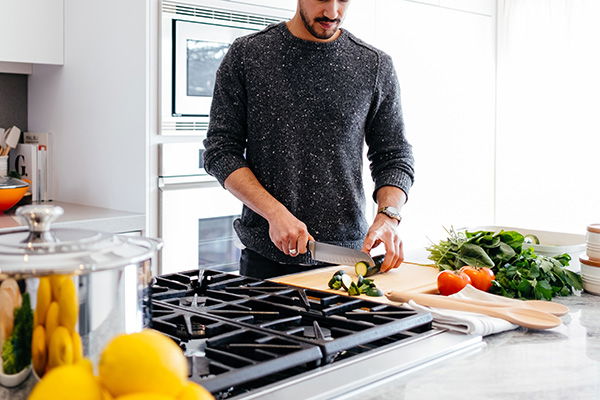 Rahart Adams: Eating good should be a priority in terms of living standards no matter what your life situation is.
This is crazy. The story is so awesome. Did you go down to the postal office or whatever it was?
Yeah. It's about 3:00 or 4:00 AM on that day I was supposed to leave. We have not booked the tickets or anything. It was all based upon whether I got my visa or not. My dad said to me we need to go down to the docks. We need to go down to Port Melbourne to where the mail comes in and we need to go to the guy who works there and asked him. We went down there at about 4:00 AM. There's no traffic. Everyone's still asleep except for the postal guides. We get there and we sit there for about 45 minutes. Thank God it was relatively close to the airport. We get the package and it's the moment of truth. I opened up the package. For my dad, this is it. We need to see if I've gotten this. Leading on this, I opened up my passport and I got it. I'm like, "I got the visa." We didn't know up until this point and now it's like, "Go, go, go."
I rang my manager, "Mike, I've got the visa. Book the tickets. We need to go now." We're on our way to the airport. The flight is in an hour and a half. He's like, "On it." He's booking the flights. I have a crazy long real name. When he booked it, he first booked it under Rahart Adams by accident, which is not my real name, but Rahart is my real name. Adams is not the real last name. I get to the counter and I'm like, "This is my name." They're like, "We don't have that. We have Rahart Adams." I'm like, "That's me. Is there any way I can still get onto this flight?" They said, "No, you need to book it with your real last name."
I called my manager, "Mike, you booked it under Rahart Adams. You need to rebook it." He goes, "I'm sorry." He rebooked it and then spelled my name wrong. The second time I had to call him back and say, "Mike, come on. This is no joke. The plane is boarding. I need you to book it properly." He's like, "I did but I spelled your name wrong." Finally, we got it. I couldn't believe it. The lady behind the desk is like, "They're boarding right now. Say bye to your dad and we're going to go right now. I'm going to take you through the Customs. We're going to run you onto the plane." This is at 8:00 AM by this point. I did a quick, "I love you dad, bye. I'll see you in a few days," because I thought I was only going to be there for three days to do this test and fly back.
It was one of the first times I left the country on my own for an extended period of time and I went completely unprepared. My dad was like, "I'll see you in a few days." I said, "I love you, dad. Bye." I hadn't eaten breakfast. I got on the plane, left and I'm running my lines on the plane. I finally get there. The next thing I know I'm in the audition room at Viacom buildings and they're interested. They're like, "We want to fly you out to Miami. You haven't booked it yet even though we're filming in Miami. You'd need to get your O1 visa now. We can't legally say that you booked it until you get your O1 visa, but we're going to fly you to Miami for costume fittings and all that stuff." I'm like, "Did I book it or what?" They're like, "Kind of, but we don't know until you get the visa."
I spent another three weeks in limbo. When I had only planned to be there for three days, I spent another three weeks in limbo in Miami. While I was there, I hadn't been away from home for longer than a week on a school campus. My family and my friends are super tired. We would hang out in the neighborhood all the time and all of a sudden, I'm away from all of that. Miami to me didn't feel like America because I was only used to LA and it was a whole different culture. It's a whole new lifestyle that I hadn't experienced before. I wasn't coping well with it.
I was like, "I'm going home. I don't care about this stuff anymore. I'm going home because I don't know anyone in this country. I don't know how to speak Spanish. I was stressed out." I don't even know how to cook for myself at this point. I don't know how to live on my own. My dad flew out and he came and looked after me and settled me in. Then we got the phone call that I've got my O1 visa. It's a completely different story and another long story of how I got the O1 visa, but it happened pretty quickly. Three weeks is a magnificent turnaround. As soon as I got my O1 visa to actually work, I went straight to set. As soon as I found out, they're like, "We need you to start working now."
You've made luck on this one.
Yeah, but it's all good. I've got my green card now so I don't have to worry about any of that stuff.
What a wonderful journey, a great life and a great journey of who you actually are. Chef Marie, what's a wonderful quote from you?
This quote is from our beloved Robert Kennedy. The quote is, "Only those who dare to fail greatly can ever achieve greatly."
I do feel that in my soul. What an uplifting and hope-giving statement to give.
That says a lot about where we all are in general, people in life. I dare to continue to feel because it's such the opposite. It's looking at it the wrong way which is like the more I feel, the more I become I know myself, what I can accomplish in my own life. I failed plenty of times and I'm here, but I'm grateful for those failures immensely from marriages to whatever else. It's me doing what I needed to be in order to be in this position that I'm in right now, to talk to one of the people like yourself, to be a part of Chef Marie and MChef Spices in our line that we have and this show itself. That's an awesome quote, Chef Marie. Thank you so much.
It was so nice spending time with you. I'm very thankful for our conversation and I'm sure that it's going to fascinate and help even a lot of people who are reading this. You give them the drive to confront any fear. Fears are friends. It's not something negative. Fear is part of our work.
It's a natural human mechanism.
He's an awesome young actor as well as a singer and a great human being. Rahart has been an absolute pleasure to interview and I know that goes without saying. My cohost, Chef Marie, as usual, you are very insightful and it's a pleasure to both be talking to you at all times. Thank you so much for this interview.
Thanks.
Take care. Long live to your career. We love you. I can't wait to see you again on start on Star Light. See you again in Pacific Rim.
I would appreciate that.
Bye.
Important Links:
Love the show? Subscribe, rate, review, and share!
Join the Burst of Flavors Community today: