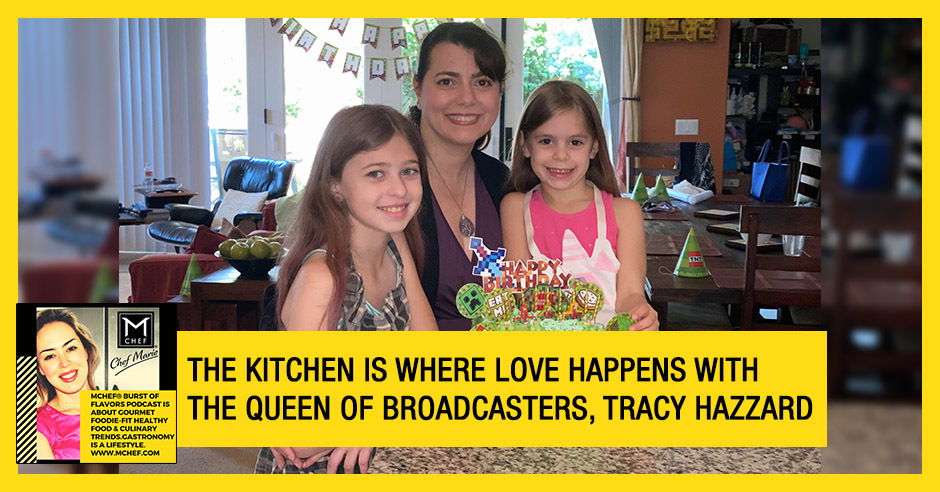 Cooking is at the heart of every family life. Like every family tradition, cooking grows old and is passed down from one generation to the next. Believing that cooking is more fun when filled with tradition and love, Queen of Broadcasters, Tracy Hazzard of Podetize™, visits host, Chef Marie, to share her family cooking traditions, taking us to her childhood and the recipes that she has grown with and loved. She then gives us her banana bread recipe that is a great way to never waste bananas that go bad. As the co-founder of the largest podcast post-production company in the U.S., it is natural to ask how Tracy copes with nutrition amidst her very busy schedule. She tells us how she does it while imparting some advice for those striving and aspiring entrepreneurs out there. Take a deep dive into this great conversation that shows why the kitchen is where love happens.
---

Watch the episode here:
The Kitchen Is Where Love Happens With The Queen Of Broadcasters, Tracy Hazzard
I'm excited because we'll be talking exclusively about gastronomy and I have a very dear guest. She is the one who presents me to this new channel of the podcast world. This is Tracy Hazzard from Podetize.
Thank you. I'm so glad to be here. This is a lot of fun. I get to talk about food for a change.
She's going to talk about food and you love food so much. You are raised in a family that is Lebanese and Italian, is that right?
Lebanese and Italian and then a little bit of Irish thrown in there. I married into a family that's very English blend. He didn't know what was coming into.
That's very interesting in the cooking part. What's up on the table?
There's always something. That's the thing. I love the idea of a lot of flavors. My family and I had done a lot of traveling even when I was young. That's something that my parents appreciated and would take us with us. When we were little, we would go to restaurants and they sometimes order off the adult menu and the staff would look at us like, "Are your children going to eat that?" We'd eat shrimp scampi or something. They'd be like, "That's my kids." We had a broad experience with food at a young age.
Before starting all these great questions about your childhood, I can't wait, my stomach is burning wanting to know all these answers. I have to tell our fantastic readers who you are because you do a lot of things. You're striving for excellence every day. I have your bio and I will tell it with beautiful passion. You are an Authority Magazine and Inc. columnist, cohost of four top-ranked podcasts including The Binge Factor, which is huge. You are the Cofounder of the largest podcast post-production company in the US, we call it Podetize. As content, project, and influence strategist for networks, corporations, marketing agencies, entrepreneurs, publication, speakers, authors, and experts. You are helping me from the start and I thank you for that. Tracy, you influence and cast branded content with $2 billion worth of product innovation around the world. I have chills here. You're on fire. That girl is on fire.
You're reading many years' worth of experience here. It's not like it was yesterday's work.
Thank you for saying that because success is a long time achievement.
I love Sheryl Crow. She's one of my favorite music artists and she once said, "I was an overnight success at 40. It took me 25 years, but I was an overnight success." I always think about that. That's the way sometimes it goes.
You have beautiful children. How many children do you have?
I have three daughters.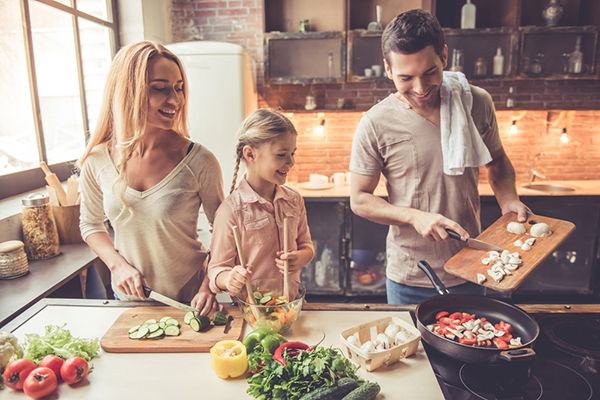 Family Traditions: If you cook for people, then it shows them that you love them.
How old are they?
A broad range of ages. I have 25 who runs my company and works with me every day. I have an almost 11-year-old, and a six-year-old. They're picky eaters, let me tell you, all three of them. When my oldest daughter said she wanted to study and become a chef, she took two degrees. She got a degree in Culinary and I was shocked at her wanting to do it because I was like, "You don't even like vegetables." I was shocked that there was this idea that she would be interested in that. It's not like I didn't cook in front of them and we would drop things, but they turned out to be picky eater shockingly. I don't know that I did anything. It might be a little too much influence from my husband. When I met him, he had never touched corn on the cob before. That's how few vegetables he had ever eaten in his life.
The only reason he ate it was because he was sitting in front of my parents like, "Were you going to be? You're meeting your girlfriend's parents, you'd like to marry her and you're going to balk at corn on the cob?" He ate it and discovered he loved it. I would slip things into meals. I'd be like, "We're having stuffed mushrooms tonight." He'd be like, "Okay," because he would be too embarrassed to tell me he didn't like them. All of a sudden he was like, "I can trust her. She won't feed me food that I will hate." I still have to manage to squeeze in enough green vegetables. That's the only thing I haven't managed to squeeze in in his life. A lot of times I'll make the vegetables. I'm the only one who eats them, but it is what it is.
You make this happen because Tom is working with on this adventure.
He's my partner. We work together every single day. We spend a lot of time together and one thing Alexandra said when she was little. She said, "Mom, if you cook for people, then it shows them that you love them. That's why you and dad are still together." She is seeing divorce around us. She said, "I think it's because you cook for him." I was like, "If that's what it is, then go ahead and believe that. It means that you care enough to cook. That's great." Sometimes he cares enough to cook for me when I'm too busy, but not the veggies. That usually won't happen, but he'll make a salad for me. I've taught him some of my basic chicken recipes and things like that over the years. He's perfectly fine to do that. Over the years, there will be a few dishes that I don't have to make anymore, the simple stuff. I'm more of a complex cook. If I'm going to sit down and cook, I want to try something new. I get bored easily making the same thing again and again.
That's very good. That's a quality in the kitchen. I would like to go back into the first part, your childhood. I would like to know what was with your mother, father, and grandparents? How did you get this approach of food when you were a baby or a little girl?
My mom was always a good cook. She learned from her mom and her grandmother. My grandmother is my nan. She's no longer alive. She was Italian but she married into this Lebanese family who would cook around her. They wouldn't let her touch the Lebanese food, but they would come over to her kitchen because it was bigger. They would mass make things like fatayer, which are meat pies, spinach pies. They would make the kibbeh. All of these things they would make in her kitchen. My mother was there and she learned from her aunts and her grandmother. My nan picked it up too, but they didn't let her cook because she wasn't real Lebanese. She would then make her famous meatballs, which was absolutely everybody's favorite. She was famous for them in the neighborhood.
If you did something nice for her like a neighborhood kid would come and mow her lawn or something, she'd make him meatballs and she'd drop it off at his house. That's how she was. That's how she gave food as love. Her kitchen was the center of everything. Even though I didn't grow up there for my entire childhood, that kitchen that left me this impression of this is where love happens. This is where you are nurtured and taken care of. You couldn't walk in the house where she wouldn't offer you food.
Do you still have these recipes?
I do. Her meatballs are famous and I have all kinds of recipes that she had. I would say she wasn't an amazing fancy cook. She was a bit pretty practical cook. Our lasagna and our meatballs, there were certain Italian things that were classically hers and they were simple recipes. That was the thing. You could put them together and you'd have dinner on the table in no time. Her balance of garlic to everything was important. You keep making it and you're like, "The recipe says this, but she must have put more garlic in because it doesn't taste the same." She was always so generous. My great-aunt Mabel, who was the Lebanese one, she would purposely not tell you what was in the recipe because she wanted you to come back to her as being the best cook in the family. There was always something slightly missing in it. It was like, "It doesn't taste like Aunt Mabel's." That was so you would come back and eat at her place.
They made you discover all their best fine herbs like oregano, parsley, basil, and everything. You remember all this beautiful authentic taste of your childhood right here.
The biggest one that was always surprising to me from the Lebanese side was how much cinnamon was in meat foods. Who puts cinnamon with meat? It never occurred to me that would be the thing that would make it taste wonderful. It wasn't until I was older and investigating the recipes and learning from them that I realized how big an important flavor that can be on that side. It's a real secret there.
Put some cinnamon into your meatloaf, even chicken, salmon or shrimps.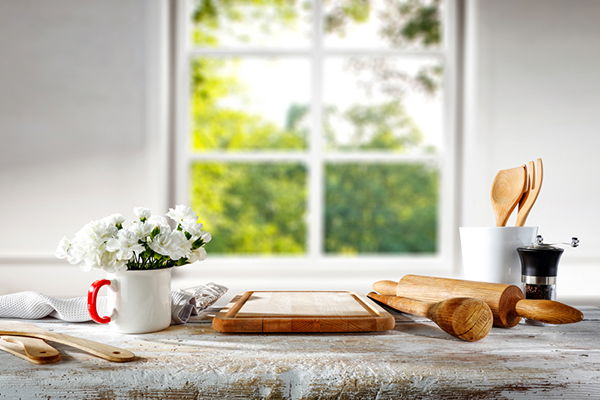 Family Traditions: The kitchen is where love happens. This is where you are nurtured and taken care of.
I sometimes sprinkle it on top of my roast chicken. I sometimes sprinkle it on top with the other herbs that I use. It's the little known secrets of great family heritage chefs. They don't get a lot of recognition, unfortunately. My mom was great at letting me experiment at a young age. That was probably the other thing in my childhood.
You were cooking with her?
We could always help and cook. There was no problem there. That was always a thing. If we're rolling dough or making pizzas or whatever it would be, she would include us. I was probably about 11, 12 years old and I was allowed to make a meal for everybody. Some of my meals became the most famous in the household. I made this thing. I must have seen it in a teen magazine, but it was a recipe of where you are making almost a calzone but in bread. You would take a French or Italian loaf of bread. You cut it open and you put ham, cheese, oregano and a little bit of cut-up tomatoes. You turn it into a calzone but it's in slices. You slice off your piece and you can eat it like a sandwich. It was famous in my house. It was simple and nothing fancy. You put a little butter on the top of the bread or oil so it gets nice and golden. It probably was oil. It's been so long since I made that. It was famous for instead of having a cheese and ham sandwich for dinner, there was this thing. Everybody's sandwich was made at once. It was convenient.
The next big thing was I was maybe 13, 14, or something like that, just about going into high school. My dad had a birthday and it was a party that was going to be with a bunch of people. I convinced my mom to let me make his favorite dessert, which is cheesecake, which is incredibly hard to make. My mom was like, "Okay." She may have had a backup dessert plan like strawberries and cream or something in case it didn't work out. It turned out to be the most beautiful cheesecake. It was perfect. Every one of my mom's and dad's friends raved about my cheesecake. I followed the recipe perfectly.
It's a memory that you will always keep at heart, even with pictures or even the taste.
Some of those foods, I'm not a fan of. I didn't love cheesecake but my dad did. I wanted to do something nice for him. That's what it turns out.
In the end, little things are the best memories ever. We are all bio individuals. We all eat different ways. What's your lifestyle? What do you like the most? How do you eat?
I eat pretty simply. I like crunchy vegetables and I don't like things overcooked. I do like a lot of raw. I almost always have a salad with every meal. I'm not a big breakfast person. Tom is a huge breakfast person. If the kids are around, there are always waffles. They're not big on scrambled eggs. I'm allergic to eggs. I can't eat a lot of eggs. I can eat them cooked in something. They're in a lot of things. I started to come up lots of faux and thank God vegan eggs taste good. I've had a lot of plant-based eggs lately.
Do you use a substitute for everything?
No, I can cook with it in something, but I can't just eat it like scrambled eggs in the morning or something. My kids are big on bacon and stuff like that. Breakfast for them is a brunch or a deal. For me, I just want a cup of tea. I'm not good in the morning, but go to lunch and dinner and I will have salads. I love Asian food because I spent a lot of time in China developing products. I love Chinese food. I love the Japanese. I love sushi. It's one of my favorites. I made seared ahi and instead of sesame noodles underneath it, which is what I made for Tom, I had zucchini noodles. It's nice being able to squeeze that vegetable in without having to do a lot more work. The sauce was the same for both. I threw my zucchini noodles quickly into the skillet. It's a couple of seconds. It was easy for me and it didn't take a lot of extra work for me to make something separate but more green and healthy. That's my thing. We're probably big protein eaters in general. We don't have a ton of red meat all the time, but when you're Lebanese, you grow up with a lot of lamb in your family.
I thought you were vegetarian. My Big Fat Greek Wedding was doing that.
We always laugh about that. I was like, "That's my family." "You need a lamb." That's usually our big go-to holiday. Instead of having ham at Christmas, we'll have a roast lamb. These are things that I grew up cooking and they still have that Mediterranean flavor to them on top of everything. They're probably our go-to's. They're usually not our daily. Our daily is a lot of fish and chicken. A lot of shrimp and a lot of chicken. That's probably the bigger area of things that the kids will eat too. That's why that one's a little simpler. I can't get them to eat fish yet.
You said that they are picky eaters, but do they have any food intolerances or allergies?
No. There's no scientific proof to this at any way, shape, or form but I did a lot of research about it when I was pregnant with the two younger ones. Not so much with the older one because I was so young and overwhelmed with being pregnant the first time that it didn't matter. The younger ones, I had more time on my hands. I did a lot of research on the foods and why they ban certain foods and they would tell you not to eat deli meat and stuff like this. I read all the research behind it and said, "What I'm going to do is eat everything in moderation but I'm going to try to eat everything. I'm going to eat nuts. I'm going to eat shellfish. I'm going to even have a little sushi now and again. I'm going to do this in moderation to make sure that the baby gets a sense of that nutrients and that flavors. I'm going to put all the spices and all the stuff that I used to."
After they were born and I was breastfeeding, I would still eat those foods. I ate nuts, shellfish, and those spicy things but not super spicy. I don't like a ton of overwhelming heat. I don't want to burn my taste buds. I like to still taste. I don't go that far. I would eat all those things and I hoped that it would translate into them not being picky eaters. It didn't work like that, but it certainly turned out that they didn't have any allergies or food sensitivities. I have a belief that it's always good to give them some sense of these things without overwhelming them. If I eat peanut butter every day, maybe they won't turn out to be allergic. Who knows?
Are you a peanut butter fan?
I didn't grow up with peanut butter and jelly sandwiches. It wasn't a thing in my house. I once went away to sleep away camp and that's what we had and I thought, "This is good stuff. Why haven't I eaten this before?" It is one of those things. I eat different types of nut butter. I pretty much like them all. It's a go-to, celery with nut butter. That's one of my favorite snacks.
You're not gluten-free. You enjoy a lot of crunchy veggies.
Because I have a hormone sensitivity, so my weight can fluctuate if I have too many carbs. I lighten up on that. I don't have a sensitivity to gluten or anything. I love great bread. Who doesn't? I grew up on great Italian bread, so why wouldn't I love that? I just don't eat a lot of it in my normal daily life.
It's great that you talk about this because it's a subject that matters to a lot of women. We have issues with our hormones and I'm building a program where it's super easy. I'm going to give you simply on a weekly basis, menus to reset hormonal sensitivities. It's like a diet. Everything's going to be there like a grocery list, the menu, and there you go. When we do that, we have to reset seven allergens. We incorporate them one by one eventually but during those three weeks, it's hard. It's three weeks of our lives and that's where we feel better.
We tried gluten-free for a while. Alexandra was a gluten-free chef in college. She was a baker and she would bake all these amazing and wonderful goods. As I discovered that there was so much sugar added, that would be worse for my body and I know that. Gluten-free didn't seem a good alternative. Reducing carbs seemed a better way to do it for me. It's so easy when you eat vegetables. They fill you up.
I love them too. Celery and cucumber, they are my friends all the time.
My go-to simple dinner, if I can't think of anything else to do, it's tomatoes and cucumber and red onion in red wine vinegar dressing. I make it a little bit more Lebanese on one side and a little bit more Italian sometimes, depending on how I feel. I might throw deli chicken on top of it and that would be a go-to simple dinner if I didn't feel like cooking or no one else was around. That would be it. I would eat the whole bowl because the tomatoes and cucumbers are so awesome together.
Do you add a little bit of oil? Do you like olive oil?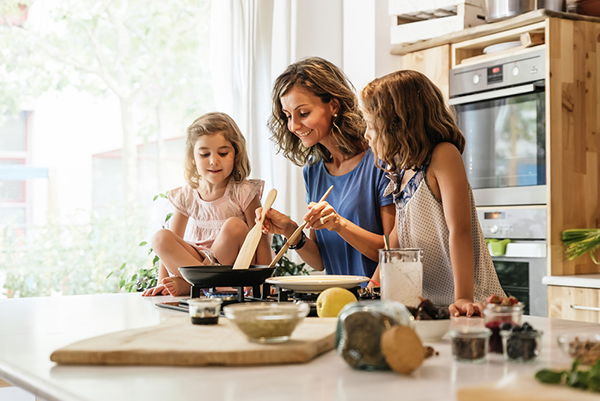 Family Traditions: The sooner you get your family to cook with you, the sooner they get over the pickiness and start eating a broader range of food.
We love olive oil. Avocado oil is our latest thing. We've done a lot with avocado oil. Sesame oil when we cook Asian. It doesn't taste right if you don't do that. Oils are always a staple in our house. We don't normally have vegetable oil, but sometimes I find that there are certain old recipes that I can't cook without vegetable oil. I do have a little bit in my house at any time. There are those old-style recipes where the taste doesn't come out the same.
Is there any food that is forbidden in your house?
I would say there isn't anything forbidden in our house. We try not to do that. That's the easiest way for someone to crave it, want it, and overdose on it. We're not that thing. I am not a broccoli fan. I do not like broccoli. It's tasting. When I was a teenager, my family, you couldn't refuse to eat something at my house. You had to at least taste it. I went on strike as a teenager and refused to eat broccoli with the argument that it was a genetically engineered food. It was a slippery slope to full genetic modification because broccoli was made in a laboratory.
My dad looked at me and went, "That was a good argument. Okay, you don't have to eat it." I had heard that it was named after Albert Broccoli of the James Bond fame somewhere. I decided, "It's a genetically engineered food." I had thought that I wanted to study biogenetics in college, which I didn't end up doing. I went to art school. My dad looked to that and said, "That was a good argument. Okay, you're out of it." I used it my whole life that I didn't eat broccoli on principle. There are people who don't eat red meat on principle, but they just don't like it.
This is forbidden for you.
Over the years I realized that quiche tastes good when broccoli is in it. It doesn't bother me as much anymore, but it's not one of the things that ever make it in our cart regularly. Tom would never eat it. It's not my favorite vegetable, why would he do it? If Tom would never eat it, then why would it make it in? It's hard to get your daughter to eat something that your husband doesn't eat. No matter how hard you try, if he won't try it or he won't eat it, there is no way they'll eat it. The sooner you get them to cook with you, the sooner they get over the pickiness and they start eating a broader range of food. Lannea, my eleven-year-old, would only eat certain types of chicken. They had to be breaded initially, which drives me crazy. I got her to help me make a roast chicken to season it, cover it, the whole thing, and make that with me. Now it's her favorite. That's what she requested as her birthday dinner.
She did that with you and you taught her. What would be your favorite menu for your birthday?
It's sushi. Especially being in the pandemic, sequestered with no fresh sushi, that is driving me crazy. For me, that's usually what it is. It's salmon sashimi or an ahi salad. Those are my favorite go-to foods. For me, that would be it. The girls don't like it. It means that I would have time alone with Tom.
You would have a ton of food too.
I don't have to share it with anyone. Some of my favorite things to drink and everything are hot green tea and or ginger tea, things like that. It goes perfectly with that. That would be my go-to dinner. For dessert, it's got to have chocolate in it. It could be anything as long as it has chocolate in it like French petit pain au chocolat. I'm saying that not as nicely as you do, but you know what I'm talking about. They're the tiny little things with chocolate in them. I love those. I grew up with a grandfather who loved eclairs and so those have a little chocolate on the top. Anything with a little bit of chocolate in it, that would be it. My go-to sweet thing is a little bit of chocolate.
No food and wine pairing. You don't drink.
I don't drink a lot. It's not because I don't like it or anything. I will drink on occasion definitely for celebration. We'll do that. Tom and I do margarita now and again with our Mexican food. Those are always a good thing. The reality is that I'd rather eat my calories than I would drink them. I once read this thing where if you drink, your fat-burning exercise and all that stuff that you might do doesn't work for 24 hours. Why would you want something that's going to linger? It seems so momentary and not enough long-term pleasure for me.
You are a real foodie. Do you have a funny anecdote in the kitchen when you were young or something that happened to you? Something fun because there are a lot of great stories that we find in the kitchen. The best conversations are found in the kitchen still.
The thing is that when I was young, I was allergic to eggs and they knew that from early on. How we found it was I was making chocolate chip cookies with my aunt and I broke open the eggs and that caused the reaction. I had hives and they had to take me to the emergency room and give you a shot and the whole thing. After that, my parents always kept Benadryl in the house. Once you grow out of how sensitive to the eggs you are, over time you can grow out of it. That's what they say. I found that if I eat eggs, I will start itching. It still has a sensitivity into adulthood, but I can break eggs. For me, the most fun was when I could first start baking and I could break everything and I could do it all myself. That made me feel empowered in the kitchen.
That for me was when I clearly remember when that happened that we discovered. The doctors kept saying, "Test her with a little bit now and again, and make sure because she will grow out of it." I was probably twelve or something. That was when I could first cook on my own because I didn't need anyone else's help. That was probably the most fun I remember having. We have fun all the time. You read my résumé. I'm busy but I look at cooking as an excitement. That's why I don't like to make the same thing twice. Don't get me wrong, we have recipes we go to, but I was like, "Let's add this in. Let's try something different." That experiment keeps me out of this, "I've got to make something to eat for dinner."
Curiosity in the kitchen is everything. It changed your world and it opened up the world of cuisine. It's wonderful.
I love your spices. Sometimes when I taste them, I'm thinking, "That's a combination I've been trying to figure out to make it taste like something I had in a restaurant or something I had in my childhood, and I haven't been able to get the combo right."
Your little secret at the beginning about the cinnamon, it's found on the Island. You can check it out, Island Spices.
We use that one when we barbecue a lot. We make chicken kebabs and stuff like that.
Thank you. You have this recipe to share.
My youngest daughter is a banana bread fiend. Seriously, she would eat an entire mini loaf every morning for breakfast if we let her. Sometimes I come down and I find out she had another loaf. Every two weeks or so, we're making another batch. That's how often we make this, but it's my mom's recipe. It's super simple. We don't put nuts in it and everything like that because that's not our family preference. I know a lot of people do nuts and they can add that to it. Ours is super simple, although it has a lot of sugar, which drives me crazy. I need to cut it down.
What do you do with that? Could you use Swerve?
I tried substituting things and somehow the consistency is wrong. She's six when she revolts and she won't eat it. "There's something wrong with this banana bread, mom. It's grainy." When Alexandra was a teen, we had gone on the gluten-free thing for her for a little while and we had substituted gluten-free flours and everything. It took me a while to get the consistency right. I have to keep trying and I haven't spent that much effort on it right now. The worst thing she does is have that much sugar first thing in the morning but doesn't have it later in the day. I'd be a happier mom.
Try erythritol or Swerve. It's going to bring you the result that you want. With the industry now, gluten-free flour is easy to find and they make those perfect baked goods.
They're so much better. We used to have a great pancake mix we loved and other things like that. Honestly, I liked them better. They have a crispierness to them. The real thing is that something about the sour cream mixed with the butter mixed with the banana.
Let's talk about the ingredients.
It's got one and a half cups of sugar, which is a lot, a half cup of butter and you blend them. I add in the sour cream. I do all my liquids together, all my wet stuff together. A cup of sour cream and then two eggs. Once all that's done, then I add in the flour. I jumped around the recipe a little bit. I added two cups of flour, half a teaspoon of salt, a teaspoon of baking soda. I then start mixing because it can sometimes start to get thick. That's when I start to add in the mashed bananas. We let the bananas go not quite black but black spotty. They're perfect at that. I've done them where they're black and they are a little too liquidy. If it's in between there, it's perfect. Two teaspoons of vanilla and the vanilla make the difference. It has this great cakey taste because of the vanilla, not that it doesn't already taste like cake because it has so much sugar.
You simply bake it at 375 degrees for 25 minutes. It depends if you're doing muffins or you're doing the big loaves, you have to go up in time. I would say go up to 50 minutes or something if you're doing the big loaf. You'll know because they won't be liquidy at the top anymore. If you move it, you'll see that liquidity. If it cracks in the top and it's not super dry but starting to dry out in between the crack, it's perfect. I have a sense. I don't even put the timer on anymore. I can smell it and I'm like, "It's done," because we've made it so often.
I would like to remind that one and a half cup of mashed banana.
That's 3 to 4 bananas you'll find. It depends on how big your bananas are, but it's somewhere around there. If you bought a whole thing of bananas and you ate 1 or 2, whatever's left will be perfect.
You then sent into the oven. Do you add a little glaze on top of it?
We don't do that. We keep it nice and natural. Other people I know do that too, but we don't.
There is no extra sugar.
It's got enough in it. That's how I look at it. We also use those mini-loaves. I have one of the giant pans with all the many loaves in it. That one cooks about 25 minutes. That's when it's about perfect. The mini-loaves are great because they're so cute looking.
Your little girl, she eats one all?
She will eat one, but she eats it in such a funny way. She eats and digs out all the center and then eats the outside. The outside is crispy and crunchy. She saves it up for last. It's the funniest thing. She eats banana bread with a fork. I'm going to have to take a picture for you one day and show you what it looks like.
It's such a personal relationship with food. Isn't it amazing?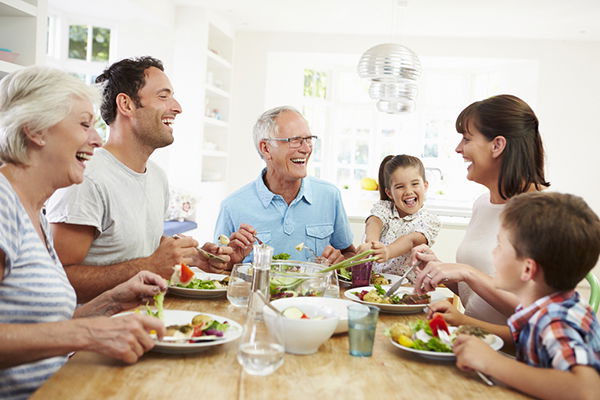 Family Traditions: "When you acknowledge, as you must, that there is no such thing as perfect food, only the idea of it, then the real purpose of striving toward perfection becomes clear: to make people happy, that is what cooking is all about." - Thomas Keller
It is her morning comfort thing. She's better when she has it. She feels like she's in control. She'll go off to school, no problem. It's enough food.
I have to ask you something about this because in the morning it's so important. Everything is there, creativity, and a lot of things in the mind. As an unbelievable entrepreneur and you achieve and overachieve, you're there. Do you have a morning ritual?
I'm not an early morning person, Tom is. He'll be up sometimes at 5:00, 6:00 AM. That is not me. I'm slow in the morning and I like that pace. It sets me on getting to think, meditate, and do those things. I don't always have a formal meditation in the morning, but it's a meditative process for me to get up slowly, take my time and drink my tea. I always drink a cup of spearmint tea every morning and take my supplements if I'm taking anything like that. I'll sit down. I do my makeup and my hair every morning, even if I'm walking outside my bedroom to my home office. I put my makeup on because it's professional and it puts me in professional mode.
It's certainly something I learned from my mom because my mom would put her makeup on and she was a stay-at-home mom. No one was coming to the house. She wasn't going anywhere. She didn't drive. We only had one car. If my dad took it, she wasn't going anywhere, but she would have her makeup on every morning. I thought, "This is how you get going in the morning." While I'm doing that, that's when I do a little bit of research, listen to podcasts, read things that I'm interested in. I multitask a little bit.
You're always learning.
I am. That is my learning time. It's probably early mornings and late nights. That's my routine. Once I'm through all of that, before I walk into my office, I'll spend fifteen minutes on social media taking care of posts and tagging people, the business side of it, not the personal side of it. I allocate fifteen minutes to it. Once that's done, then I walk into my office and I start my day. I don't read my email in the morning. That is the number one thing I do not do ever in the morning. I don't let somebody else rule my day. I got that from my good friend, Penny Zenker, who has a podcast called Take Back Time. I was like, "This is a brilliant morning routine. Why should you let somebody control your morning?" By opening that up, you let them.
Is it the same for you at night? Do you have a ritual before you go to sleep?
It's a little adjusted and new. We'll usually finish watching something on the TV. Tom is not a night person, so he likes downtime. I'm usually knitting or doing something else. If I were not watching, I'm reading. I'll be reading a book, that would be my alternative. We have our Cocker Spaniel, Lucy, we take a little 11:00 walk around the neighborhood with her, get her to go one last time, then we come back in. I'll do the same thing. I'll be a little slow with taking my makeup off and doing all those things. I don't do anything else, but it's the removal at the end of the day and things like that. I will climb into bed and read a little bit more. Usually, it's something fun. Whatever I read, that's my last thing. It will be something personal for me. I'll read for maybe 15, 20 minutes and then go to bed.
I do take melatonin every night. I take my melatonin as I get ready for bed and then by the time I'm done with reading twenty minutes, I'm tired. It kicked in. I was having trouble sleeping and it was somewhat of the hormonal shifts that are going on. That Italian and Lebanese genetics has served me well. Everybody's like, "What do you do?" Except for being religious about taking my makeup off, beyond that, there was nothing fancy in my routine and its genetics. As that hormonal shift is happening, I discovered I was having more and more trouble falling asleep and staying asleep and the melatonin has been a godsend. It's amazing. I get the best night's sleep now.
Do you remember your dreams?
I have vivid dreams. I do remember them. I have a notebook by my bed, so I also get ideas. It used to be more when we were designing products. Product designs would resolve themselves in my sleep. I would wake up and I would be able to write that down. I'll get that idea across and make sure I'll sketch it out.
It's amazing that you have this open channel to creativity like this.
Some of my best ideas have come from sleep and showers, those two things.
I'm sure it's going to give a lot of good advice and ideas to the people who are reading. Thank you so much for your time. I will invite you again.
I look forward to it. We can talk more recipes and more fun stuff.
Thank you so much. You're so generous and thank you for helping me through this journey. I still know nothing in this field and you break the ice every time with me. You're patient, open arms and, "Let's go. Let's do it, girl." Thank you for that. It's because of you that we have this show.
Thank you so much. I'm so glad. Your voice in the world is important.
Thanks. Continue to do what you do. We are followers and true fans. I would like to finish with a quote from our dear Chef Thomas Keller. I found that it was appropriate for our conversation. It's a little long, so bear with me. "When you acknowledge as you must that there is no such thing as perfect food, only the idea of it, then the real purpose of striving toward perfection becomes clear, to make people happy. This is what cooking is all about." It gives me chills. Happy, joy, and cooking, it goes a lot.
It's experimentation too. It's all in there.
Experiences like you when you were twelve years old. We picture you cracking your eggs. You're very nice. Thank you very much, Tracy.
Thank you, Marie. I love you.
I'll see you soon.
Important Links:
Love the show? Subscribe, rate, review, and share!
Join the Burst of Flavors Community today: